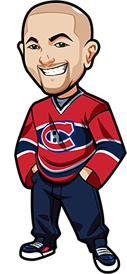 Written by Graeme on Tuesday, February 11th, 2020
Follow @BetNHL
A 1-1 night for a loss yesterday.
We had a 1u play on Tampa to win in regulation. Tampa got the job done but it was in regulation time.
We had a 0.5u play on the Predators vs Canucks game to go over 6 goals. Canucks hit that total on their own as they thrashed the Predators 6-2. That Predators loss meant their chances of making the playoffs took a whopping 13% hit.
Coyotes got a big win over the Canadiens. Trotz continued his excellent record against the Caps with a 5-3 win. Flyers continue their momentum. Florida still have a 56.3% chance to make the playoffs but they have to be getting a bit concerned.
Busy Tuesday today with 11 games going on. I feel like Leafs are hitting my unbackable list. Their goalie situation is a bit of a mess and I'm getting concerned with them not showing up at times. This should be a game where they take it in regulation but man who knows. Nylander might be back which will be a big help. If he is back I'd like them tonight. Andersen looks to be in net today but who knows how that will go.
I like the Knights tonight but not at that price. Ew.
I talked myself out of the Jets vs Rangers game today. I was going to take the Jets. Here's the write-up on that one before I decided not to:
Jets are one of those teams that have made their way onto my good list at the moment. I took them against the Sens on Saturday and was very tempted to take them against the Blackhawks except I am wary of the Hawks.
I've got to take them here.
They're putting in good performances at the moment. 3 wins in a row. Now it's not over the best teams (Blues are a bit iffy at the moment) and that's a problem that has plagued the Jets the past two seasons, but you've got to put the Rangers in the bottom half of the power rankings for sure.
Rangers are rolling with Shesterkin though who is hot at the moment. He had an awesome game last time out.
I will say that based on some advanced metrics, Rangers should win this one. I guess a lot of it depends on if they show up or not. I mean this is a key game for them but the Sabres one was even more key. Jets may get overconfident.
Man – I am sorry guys but it is really hard for me to pull the trigger on many tips today. Sucks when I spend so much time on it only to come out with just one tip ha. However better safe than sorry.
The two additional picks that got the most consideration were Hurricanes to win and Avs -1.5. For the Avs I just have slight concerns about overconfidence, and the injury of Kadri. On top of that they've had a really disappointing record this season lately returning from a road trip in that first game at home.
Hurricanes – I think the math is there to make it a play. I believe they have a slight edge with their offense doing the job. But I just can't pull the trigger for whatever reason.
Just the one tip. Be sure to read the comments as there will be a lot of tips in there. And if there is anything you are betting be sure to post. Always like to see what others are betting.
Flyers vs Islanders Betting Tips:
Philly are on a good run at the moment. That 5-0 loss to the New Jersey Devils just seems to have woke this team up. They thumped the capitals on the road then beat a tough Panthers team at home nice and easy.
Now they're on the road again as they look to continue their march towards the playoffs. The Islanders also come into this one hot after a big win over the Capitals.
It's a close game and should be competitive even with both teams on a B2B.
This is a big divisional game and I've got to think it's competitive with how important the points are here. Both teams metric wise stand out more on the defensive end of things though so we'll play it safe but hopefully neither team approaches this cautiously.
0.5 on Over 5.5 Goals
Canada: 1.80 Odds at Sports Interaction (SIA) + free $20 bet.
USA: -124 Odds at BetOnline..
Everyone Else: 1.80 Odds at BetOnline..
(Odds correct as of 2020/02/11 10:58:57 AM EST but are subject to change.)
Non-NHL Betting Tips:
Written by Graeme
(All below systems are based mainly on mathematics and statistics with very little human input and are deemed experimental. Use at your own risk.)
Finland SM Liiga Betting Tips (5-2, +1.50u): 0.5u on Kalpa incl OT/SO 1.72 odds.
Where To Bet the Non-NHL Leagues:
Canadians: Bodog and 888 Sports.
Americans: Bovada.
Everyone Else: 888 Sports.
Follow @BetNHL
BetNHL.ca » Tonights Tips »