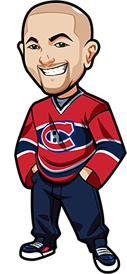 Written by Graeme on Friday, February 11th, 2022
Follow @BetNHL
Hi all,
An excellent 2-0 win last night for Scott.
We had the Hurricanes to bounce back on the road in Boston. The Bruins were missing a couple of key players and the Canes took them to the cleaners.
We also had the Leafs and Flames to go over. This was a big game for the Calgary Flames, as they beat the Leafs 5-2.
The Devils pulled off a big win over the Blues, and the Avs managed to beat Tampa.
Let's get into todays tips with just four games on the board:
Stars vs Jets:
You know I always like the Stars at home. Unfortunately, OT/SO is unbettable. One other issue is they have been a bit shaky at home lately with three losses in their last four.
Granted two of them were the Flames and Caps but one was the freaking Habs! Winnipeg we know are that team that can pull a good performance out of nowhere. But consistency doesn't seem to be a word they know at the moment.
Jets also coming in off that excellent performance against Minnesota. A fantastic defensive performance as they kept the Wilds xG to 1.7 while holding a lead the majority of the game. That is huge.
No bet here. If I were to pick a team, then honestly based off the Jets performance on Tuesday, it would be them. But they are just an incredibly unreliable team.
Oilers vs Islanders:
The Edmonton Dumpster Fires finally fired Tippett. At least a month too late.They come in off the back of two humiliating losses at home.
Islanders come in after the big win over the Canucks with a vintage first period performance.
I'm a bit surprised Islanders are such big dogs here. Maybe they think Woodcroft brings in new coach syndrome. We do know a fresh man at the helm can change things around short-term for the better.
The Islanders are 8-7-3 on the road but it's hard to get a real accurate assessment of their road form due to their overall schedule this season. They have only had two road games this year, winning both in high scoring matches.
I feel like you have two teams who will be up for this, and both looking for fast starts. You can't really count on Mike Smith at the moment, but I do think we see more output from the Oilers offense tonight.
I'm going to go with Over 5.5 incl OT/SO.
This one is over 6 at most sportsbooks at evens odds, but BetOnline. currently have it at over 5.5 , for -110 odds so I would advise that play.
(Odds correct as of 2022/02/11 7:39:05 AM EST but are subject to change.)
Coyotes vs Lightning:
Coyotes coming in off that big win over the Kraken. Tampa stuttering a fair bit as of late but they are a big bounce back team. Look at the 7-1 win over the Sharks after the Ducks regulation loss. Or the 6-1 win over the Sabres following the Bruins regulation loss. Even the 7-2 win over the Jackets following the 4-0 regulation loss to the Rangers.
It's not all the time but losses like that do seem to get them back on track and ready to hand out a pounding – especially lately.
Coyotes at home this season are actually surprisingly solid. Lot of close results.
Not a fan of handicaps on the road, and if the Coyotes are able to frustrate Tampa early that could be trouble – but Tampa do seem to get the job done. The odds seem good enough for me on that one. Coyotes have a decent enough record playing with an empty net (only 5 conceded in 18) while Tampa actually have a bit of a disappointing record playing against an empty net. 7 in 20.
This is one where I was very close to betting Lightning -1.5 but there were just a few little things eating away at me, and eventually turning me off it. I should note if you wish to back that and are Canadian, Sports Interaction (SIA) have it at 2.04 odds. Everywhere else, it is 1.95 or -105.
I may think this one over and decide to post it later in the comments. We'll see.
Ducks vs Kraken:
The first result for the Kraken after the all star break was a disaster as they got thumped 5-2 by the Coyotes. This was after going into the break with that confidence boosting win over the Islanders.
The Ducks have had the Krakens number this season. The advanced metrics for both teams last 10 are a bit concerning with Kraken generally the better side. xGA in particular – well the Ducks are lucky Gibson is performing well right now, that's for damn sure.
Post-break games can be iffy though. We've seen that. So I will pass on Ducks in regulation tonight, even if that seems the play to make.
Follow @BetNHL
BetNHL.ca » Tonights Tips »