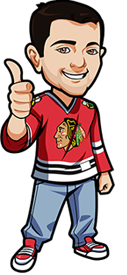 Written by Scott on Monday, February 11th, 2013
Follow @BetNHL
A great night of hockey last night and also a completely unpredictable one. The Sharks got rocked by the Blue Jackets, the Leafs pound the Flyers, the Kings beat the Blues the list goes on and on. The only real predictable thing that happened was that there was a pile of goals scored so well done to the people who went over on the Grand Salami.
A busy night of Hockey is in store for us tonight with 10 games taking place: Its home sweet home for the 1st place Blackhawks who return home for the first time since January 27th to take on the 2nd place Ducks. The Canadiens are in Florida to take on the Lightning in what is sure to be a high scoring game. Also the Sabres take on a beaten up Senators squad who are going to have to be near perfect to beat Ryan Miller.
These games plus many more are on and as usual I have found the three best bets and odds for you to take advantage of:
Sharks vs Predators: Sharks To Win
The San Jose Sharks had emerged as one of the Western Conference powerhouses earlier this year. The Predators have continued to do what has gotten them in the playoffs for so many years, they hover around 6th place and seem to always make the playoffs. But the Sharks are a solid team who are currently on a 5 game losing streak and would love to reclaim top spot in the Pacific Division and they will use this game as a means to turn things around.
After looking around the Sportsbooks the general Odds for this game for the Sharks To Win were all around -110 and then, like a Oasis in the desert, Pinnacle Sports had the Odds for the Sharks to Win at +105. That is to good to pass up on. I mean how often are the Sharks going to be paying out at over even betting odds? Head to Pinnacle Sports, Sign up and take advantage of this amazing bet before the Sharks go back to winning.
Ducks vs Blackhawks: Blackhawks -1.5 Puck Line
After playing the last 6 games on the road, the Chicago Blackhawks finally return home to begin a 7 game home stand against the 2nd in the West Anaheim Ducks. Whats scary is the Hawks have gotten 22 of the 24 available points this year while only playing 2 games at home.
Look for the Blackhawks to cover the -1.5 Puck Line. My guess is that they can't wait to be back at the"Madhouse on Madison" and put on a performance for the lunatic Blackhawk fans. Go to BetOnline.. And believe me the odds will change on this one to where I expected them to be in the first place with both teams paying out at -110.
Follow @BetNHL
BetNHL.ca » Tonights Tips »