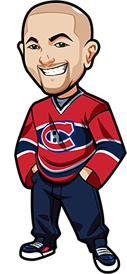 Written by Graeme on Saturday, February 13th, 2021
Follow @BetNHL
Apologies for slight delay in tips today. One of those days where time just got away from me.
The Bruins got the win yesterday in a tight game. I wish I had backed the under 5.5 yesterday I just find backing unders so hard to come to terms with. I don't mind when bets go awry but there's something about backing an under 5.5 goals and then seeing it be a 10 goal thriller that really gets to me.
Blues got the win they have been seeking finally. They now play the Coyotes AGAIN today. Jesus christ. Those teams must be so sick of each other by this point. Then they play again Monday. What a mess.
As usual on big slates in this rather odd season I will go through each game and give my thoughts. Then if one jumps out at me I'll look into it more and if it's a tip, move it to the top.
Jets vs Senators:
We backed the Jets in regulation last time out. They thumped the Sens 5-1. Ottawa put the pressure on Hellebuyck to no avail. 41 saves he made. One thing I like is listening to Maurice you can see he is taking the Sens seriously.
Sens had a high xG of 4.83 in that one. They were honestly quite unlucky that the result went the way it did.
We 100% can not write Ottawa off. That game proved that. However Hogberg is confirmed in net and I'm happy to back the Jets again. If the Sens are able to create the chances and capitalize on them this time well that's hockey. However the Sens have puit up that sort of shot amount before and been on the losing site – Oilers, Canucks game etc.
I'm good with backing the Jets again.
Jets in Regulation
Canada: 1.68 Odds at BetOnline..
USA: -155 Odds at BetOnline..
Everyone Else: 1.68 Odds at BetOnline..
(Odds correct as of 2021/02/13 12:50:59 PM EST but are subject to change.)
Blackhawks vs Blue Jackets:
This one is coinflip odds and I really like the Jackets her ehonestly. Just one of those strong gut feelings that Jackets take this.
Werenski is back too which is huge. But the Jackets have a few issues at the moment it seems involving Laine etc and that huge scoring game with the Hawks didn't give me much confidence. I did like how hard they fought though.
I think the Jackets defensve setup looks solid here.
Yeah I'm good with Jackets. Not a team I have a ton of confidence in but they tick enough boxes for me here. Their offense does give me nightmares at times. Subban has looked decent so we'll make it conditional.
Jackets win incl OT/SO IF Subban is not in net
Canada: 1.96 Odds at BetOnline..
USA: -105 Odds at BetOnline..
Everyone Else: 1.96 Odds at BetOnline..
(Odds correct as of 2021/02/13 12:50:59 PM EST but are subject to change.)
Leafs vs Canadiens:
I really see no reason not to back the Leafs here. They are having a rocking season and they're actually playing to their abilities which is a rarity.
Habs with two losses in a row right now. Andersen playing well.
Honestly I like Leafs in regulation in this one. HOWEVER it's still hard for me to get adjusted to the Leafs and being able to trust them as just so many memories of games where they phone it in PLUS THEY ONCE GOT BEAT BY A TEAM WITH A ZAMBONI DRIVER IN NET.
Leafs incl OT/SO
Canada: 1.76 Odds at BetOnline..
USA: -131 Odds at BetOnline..
Everyone Else: 1.76 Odds at BetOnline..
(Odds correct as of 2021/02/13 12:50:59 PM EST but are subject to change.)
Stars vs Hurricanes:
Stars come into this one struggling after a good start. The two had a real fun game last time out. To be honest this is one where I would like to bet more on the Hurricanes to score the goals here than anything else. Alas that would have to be over 3.5 goals which is 2.35 odds.
They generally do seem good for it.
I think both teams can combine for the goals though here. Both high xG and they seem to be able to put the puck in the net. Could come down to relying on an empty netter but I think both teams should be up for this.
Yeah I am good with Over 5.5 goals incl OT/SO.
Canada: 1.86 Odds at BetOnline..
USA: -114 Odds at BetOnline..
Everyone Else: 1.86 Odds at BetOnline..
(Odds correct as of 2021/02/13 12:50:59 PM EST but are subject to change.)
Sharks vs Knights:
Knights lost to the Ducks 1- last time out. Last time they lost in regulation was the Coyotes. They bounced back but in a quiet 1-0 result.
Sharks have had poor results this season. Thise is the first time they are at home though.
I am very conflicted on this one. I think Knights in regulation should come in but being at home may be a big boost for the Sharks. I remember a situation like this recently where I had similar thoughts and the home team got the win.
I could see this being an explosive game with both teams fighting hard to win. Sharks due to being at home, Knights due to wanting to bounce back.
Fleury in net for Knights though he has been darn good this season.
Just too many questions on this one. Knights in reg or over I like most and I think I'd go with the over myself as I think Sharks can be feisty and despite his stats Fleury can probably give up 2 goals.
Islanders vs Bruins:
No bet. This Bruins extended road trip such a turn off. O/U set at 5. No thanks.
Panthers vs Lightning:
No bet. I have questions about Tampa this season but the Panthers odds aren't worth it here. I will not be surprised if Panthers pull off another W.
Predators vs Red Wings:
Two trash teams. I think Red Wings probably have enough value but not enough for me to bet them.
Coyotes vs Blues:
Staying away. Just so many games between these two. I'd like to think now Blues got that win they can build on it but not enough to back it.
Canucks vs Flames:
Flames got us the win the other night although it was generally against the run of play. I think Flames can do the business again but that game did not give me enough confidence to back them. Staying away here.
Follow @BetNHL
BetNHL.ca » NHL Betting Tips »