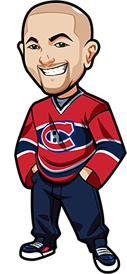 Written by Graeme on Wednesday, February 13th, 2013
Follow @BetNHL
Well I guess the Blackhawks aren't invincible after all, as they lost in a shootout defeat to the Anaheim Ducks. The Canucks are slowly but surely racking up the points, and for once the Capitals actually showed some fight, with a great 6-5 game vs Florida. And my Habs won too, yay!
Only 3 games on the board tonight. The Struggling Calgary Flames host the Dallas Stars, St Louis visits the Red Wings and in the real interesting game, the Senators take on the Pittsburgh Penguins. Both teams are on 16 points and that's going to be an interesting one. Their last game in January was a tight one that went all the way to a shootout. Penguins have been struggling through while the Sens are doing well so it's going to a very interesting game.
Pittsburgh Penguins vs Ottawa Senators Betting Tips: Under 5.5 goals
I honestly thought this one was going to be set at 5, so I'm very surprised that the line is 5.5 I mean you saw the game they played in January – and Spezza played too in that game. That was a tight affair then, and this is aso going to be a tight affair. The Sens have been great at stopping goals this season, and the Penguins have been very good as well.
Add onto that the fact that Penguins don't currently have a winning record at home, and they're going to be playing a very tight game. The best place to bet the Under 5.5 Goals in Penguins vs Senators is at Pinnacle with +105 Odds – most other online sportsbooks have the line at -115 so there's great value there.
Blues vs Red Wings Betting Tips: Time of First Score in First 9:30
Okay this bet is one that you can only get this over at B365. Click on "Hockey" then "Blues vs Red Wings Game Props" and it's there with all of the other props. It's quite crazy what you can bet there.
Stars vs Flames Betting Tips: Under 5 Goals
No surprise that this game has the 5 line set for the over/under. Both teams have been playing very tight hockey. The Stars in particular barely score goals or concede goals – they just pick up wins in the most scrappy fashion possible. The Flames meanwhile while conceding over 3 goals per game are generally very tight offensively, and this is looking to be a close one.
We're getting surprisingly good odds on the under 5 goals as well. Right now 5Dimes are offering +120 on the game which is well worth a bet. I'm not a big fan of betting the Under 5, but with the odds and this matchup it's a great bet.
Follow @BetNHL
BetNHL.ca » Tonights Tips »