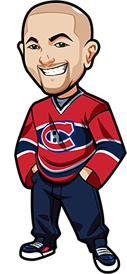 Written by Graeme on Saturday, February 14th, 2015
Follow @BetNHL
It was nice and tight last night, but we finished the night 2-0. Speaking of nice and tight – Happy Valentines Day!
We had the Blackhawks -1.5 and they went into the 3rd period down 1-0. Thankfully they came out FIRING, and won 3-1 overall with an empty netter with 45 seconds left on the clock to get the win. Great to see the Hawks turn things around and hopefully they can use that momentum now.
We also had Under 27.5 goals in the Grand Salami and holy moley was that tight. We cleared it with 1.5 goals to spare thankfully, with just 26 goals in the night despite 3 of the games going over. Thank you Dallas, for that thoroughly professional and conservative performance.
Before I get into todays tips – a special bonus for Canadians. If you are Canadian, you qualify for a $20 Free Bet at Sports Interaction.
All you have to do is:
Sign up at Sports Interaction.
Deposit at least $20. Note that they offer a 100% bonus on top of this up to $125 – so it's highly recommended you deposit $125 as they will GIVE YOU $125, meaning you have $250 in your account after depositing $125. $125 is the max you can deposit.
Place a $20 bet on any NHL moneyline.
If it wins, great. If it loses? You get your $20 back!
Can only be single bets, not combinations or teasers and not live bets – has to be placed during the game. This expires end of February so take advantage of it now – the bonus itself is a sick deal, but the free bet on top of it is really sweet,
Click here to register at Sports Interaction.
And for the free bet we recommend doing it on a riskier game – where the odds are 2.00 or above. Sports Interaction is our #1 recommended online sportsbook for Canadians.
Leafs vs Canadiens Betting Tips:
This is one where – dependent on the odds, we blindly bet the Over. If it's 6 goals then that's where we have a cause for concern – but thankfully it's a very nice price of 2.15 odds for Over 5.5 goals. This is probably one of those situations where the sportsbooks just know – and it will end up being a 0-0 game going to a shootout! But yeah – you can't overthink these ones. Bet Over 5.5 goals.
Wild vs Hurricanes Betting Tips:
Have to take the Wild in regulation at 1.83 odds. They've been playing some bloody brilliant hockey since the break. Little bit of struggles in the last two games with Florida and Winnipeg but that was a tough couple of games schedule wise. They're at home and had a break. Hurricanes on the road actually battle well – but this is a game the Wild should be winning.
Coyotes vs Rangers Betting Tips:
The Coyotes are a slight concern lately because they're fighting hard against every team. Doesn't matter who it is – Blackhawks, Blues, Sharks and Red Wings have all had tough games against them home or away.
But the Rangers right now are also looking great – their offense is just full of confidence and I'm loving everything Zuccarello and Hayes are putting together.
Coyotes are also on a back to back. Rangers to win are 1.50 odds but the regulation win is 1.90 which is a really nice price, and one we are all over.
Value Bet: Blue Jackets vs Islanders
Just can't ignore this one. Blue Jackets to win including overtime and shootout are 3.10 odds. I'll probably split a unit – half on them to win, half on regulation time victory at 4.25 odds. Islanders should win – but not enough at those odds. Blue Jackets have looked great in their last 4 games. Islanders are coming in after tight victories over Leafs, Oilers, Sabres. Blue Jackets are a team who based on the last few games they've played realize they actually still can nab that wild card spot, and are worth the value bet.
Speaking of value bets, the Avs have beaten Dallas 3 times this season. They're slumping but the Stars are shorthanded to all hell. This game has the potential to be a blowout for the Avs. It's also very possible the Stars step up instead – we've seen it before. But it's worth a bet on the Avs -1.5 at 3.00 odds in the hopes of a blowout.
Also a possibility is the Kings. They got blown out by the Capitals 4-0 and should be out for revenge. Capitals have a brutal stretch of games coming up, and they're starting to falter a bit. Kings -1.5 at 3.10 also has some value.
$25 risk free bets on player prop, in-game bet and $50 risk free mobile bet. Available for NEW customers only at BetOnline.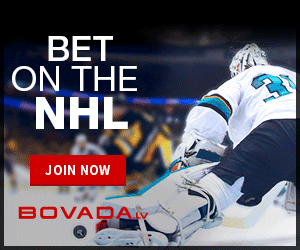 Follow @BetNHL
BetNHL.ca » Tonights Tips »