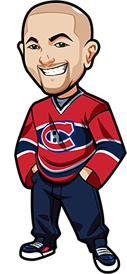 Written by Graeme on Thursday, February 14th, 2019
Follow @BetNHL
No tips last night.
The Penguins came from behind to beat the Oilers 3-1 with an empty netter thrown in there. We would have had to take the Penguins in reg there at least and I'm glad we didn't. Oilers had a host of chances to tie that one up and Murray had to be at his best. One of those where simple variance really decided the result.
In the other game, the Anaheim Ducks gave Kevin Boyle his first career start and he recorded a shutout as they won 1-0. That was awesome to see. Another one where I was glad there was no bet placed and got to sit back and just enjoy it.
It's Thursday, February 14th adn the usual busy slate. Lot of interesting games going on today let's get right to it:
Predators vs Canadiens Betting Tips:
A well rested Montreal Canadiens team heads to Nashville to take on the Predators. They haven't played since that game against the Lafs on the 9th.
They've been in excellent form lately with just 1 regulation loss in their last 11. They're looking good for the wild card spot but they need to keep these performances up.
They've got two tricky games as after the Preds they head onto Tampa then Florida in back to back games, before returning home to play the Blue Jackets.
Things really haven't been going the Predators way. Coming in on a 3 game losing streak although to be fair, two of those games were against the surging Blues.
I do agree they should be favoured but feel they are too heavily favoured. Feel there is decent enough value on the Habs. In saying that this is one of those games where the more I look, the more I keep talking myself out of it ha. At the end of the day, with the way the Habs have been performing lately I'm gonna have to back them here.
0.5u on Canadiens to win incl OT/SO
Canada: 2.45 Odds at Bet365.
USA: +145 Odds at Bovada.
Everyone Else: 2.45 Odds at Bet365.
(Odds correct as of 2019/02/14 2:20:24 PM EST but are subject to change.)
The Blackhawks are a blast to watch at the moment. They're coming off that 6-3 loss to the Bruins but with the attitude they seem to have at the moment, that shouldn't affect things here.
I do have a slight concern in that looking back to the beginning of 2019, they lost against the Bruins and Flames then immediately lost the next game in OT (the later one setting up a 5 game losing streak which includes the Devils).
Despite that, Blackhawks must be feeling good about their playoff chances now and I've got to think they can keep on rolling especially with Kane still on the point and assist streak. Little things like that can keep a team focused.
The Devils just aren't looking good at all lately. They have a great recent regord against the Blackhawks but that would really be the only reason to take them here.
1u on Blackhawks in Regulation
Canada: 2.00 Odds at 888 Sports.
USA: -105 Odds at Bovada.
Everyone Else: 2.00 Odds at 888 Sports.
(Odds correct as of 2019/02/14 2:20:24 PM EST but are subject to change.)
Sharks vs Capitals Betting Tips:
It's hard to bet against the Capitals when they are such big underdogs. We were either going to take the Sharks or Tampa as the final pick and the Sharks won out.
San Jose are just looking damn good at the moment. They did an excellent job on the Western Canada trip and come back home where they have an 18-4-4 record.
Washington just aren't doing well at all at the moment and they're struggling against the top teams too which is tough. It's usually around this time where we see them make their surge for the Metro title but they aren't showing any indication of it.
if tonight is a turning point then so be it but I've got to back the red hot Sharks against them right now.
1u on Sharks in Regulation
Canada: 1.91 Odds at 888 Sports.
USA: -115 Odds at Bovada.
Everyone Else: 1.91 Odds at 888 Sports.
(Odds correct as of 2019/02/14 2:20:24 PM EST but are subject to change.)
FWIW – this is one of those days where after doing the tips and just before posting I give them a look over and hate every one of them ha. Not sure why that is but just one of those random things where you immediately second guess yourself. I'll stick with them but if you follow us religiously might be worth dropping the units in half tonight.
Follow @BetNHL
BetNHL.ca » Tonights Tips » February 14th, 2019 NHL Betting Tips