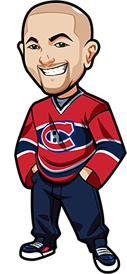 Written by Graeme on Friday, February 14th, 2020
Follow @BetNHL
A 1-2 night for a 0.26u loss yesterday with the NHL Tips.
Our win was with Tampa over the Oilers in regulation. That was a lucky one as a couple of hours after the tips were posted, it came out that Stamkos, Kucherov and Cirelli weren't playing. Especially Kucherov who by the advanced metrics is the current best shooter in the NHL. Luckily Oilers without McDavid couldn't get the firepower needed, and Lightning ran out winners to continue their run.
We had Blue Jackets to beat the Sabres. The Blue Jackets blew a 2-0 lead in that one, and then despite scoring at the death to tie it up couldn't carry that momentum into overtime to get the win. Frustrating one. What made it worse is we thought Elvis was in last night. We should have made it a goalie dependent pick. Although it's probable that we would have went with them anyway even with Kivlenieks in net. However if you see us specifically mention a goalie in the tips and they aren't starting – be sure to ask us in the comments.
We also had the Avs/Caps game to go over. Colorado took a 2-0 lead early, however Washington ended up coming back and winning 3-2.
Calgary bounced back with a big win. Blues and Knights had a hell of a game. Coyotes lose AGAIN. Man what a disappointment they are. Rangers show there is still fight there with a 4-3 win over the Wild. Good night of hockey with some interesting playoff implications.
There was some discussion in the comments the other day about player props. Curious how many of you bet player props such as goalie saves, player points or goals etc.
[poll id="105″]
I mentioned it in the comments when it was being discussed as someone asked if we could cover it in our NHL tips daily. The problem is I've never been able to consistently back them to where I would feel comfortable advising them. I do enjoy betting on them though. I feel they add to the entertainment of the game. Get super excited when Werenski comes out or whatever.
Also if you're looking to bet player props, you can bet them at these sportsbooks:
Canada: Bovada.
Everyone Else: 888 Sports.
We turn our attention to Friday, February 14th now, which is Valentines Day. Hopefully the NHL gives us some love tonight.
The over is tempting in Hurricanes vs Devils. However these two teams normally don't have high scoring clashes against each other. Canes offense runs seriously hot and cold this season, and after that Stars loss it wouldn't surprise me to see it happen again. Devils you have to rely on them just staying motivated for the sheer fun of it.
Penguins will probably beat the Habs but it would have to be in regulation. Habs have pretty much no chance to make the playoffs but they don't make it easy for teams and the Penguins are hard to back at the moment.
Blue Jackets vs Rangers Betting Tips:
After an excellent run, the Blue Jackets come into this one stumbling somewhat with 3 losses in a row. All 3 were tight with 2 needing overtime.
Now they're hosting a marauding but inconsistent New York Rangers team.
This could be a great game. Jackets have a fair amount of injuries and it's impressive they are doing so well regardless. Elvis is surely between the pipes tonight which will help.
This is a big game in the Metro. The Jackets are going to be motivated to put wins together because they have the Flyers on Tuesday which is an absolutely massive game.
These two teams had a tight game in New York on the 19th but the Jackets ran out 2-1 winners there. They held this sometimes explosive Rangers offense at bay and I think they can do it again.
Both teams on a back to back. Rangers are 5-3 and Jackets are 5-5 on B2Bs so it's likely not to be a factor.
The injuries are the only real negative for the Jackets in this one.
Jackets to win incl OT/SO is within our range, however the Jackets have an absolutely terrible overtime record so it makes sense to take them in regulation. Then smash something when they win in OT.
0.5u on Jackets in regulation if Elvis is in net
Canada: 2.25 Odds at Bovada.
Everyone Else: 2.25 Odds at 888 Sports.
(Odds correct as of 2020/02/14 9:20:49 AM EST but are subject to change.)
Jets vs Sharks Betting Tips:
Tuesday was when I was initially going to take the Jets against the Rangers. I had it written up and everything and then decided I couldn't go with it. It just felt like that was a game where they were going to blow it and I was right.
I'm going to back them here. A large part of that game was simply Shesterkin. Dell is solid but he ain't no Shesterkin. He was in net for the November 27th game when the Jets put 4 past him. In the lone game he played against the Jets last year, they also put 4 past him. Course the Sharks won that game ha. However their offense isn't too good this season so hard to see a repeat of that. Dell just got lit up by the Flames but he rarely bounces back with a super strong performance.
Every game is key for the Jets and I've enjoyed their performances coming into this one, and I'm hoping their offense doesn't switch off after that Rangers game. Looking at similar games recently such as the Bruins result, they were able to bounce back strong from that one. There's definitely some games this season where their offense struggles and then they rock a low corsi in the next one, but their xG is still generally high there.
When they score 1 goal or less this season they've managed to come out strong the game after and have a 10-3 record for that this season.
Jets may have Sbisa and Poolman back too.
They've had the Sharks number so far this season and I feel confident enough in them to take them in regulation, even though the OT/SO odds are within our range.
1u in Jets in Regulation
Canada: 2.08 Odds at 888 Sports.
USA: +100 Odds at Bovada.
Everyone Else: 2.08 Odds at 888 Sports.
(Odds correct as of 2020/02/14 9:20:49 AM EST but are subject to change.)
Non-NHL Betting Tips:
Written by Graeme
(All below systems are based mainly on mathematics and statistics with very little human input and are deemed experimental. Use at your own risk.)
KHL Betting Tips (5-2, +1.86u): 0.5u on Jokerik incl OT/SO 1.70 odds.
OHL Betting Tips (12-13, -1.80u): 0.5u on Owen Sound Attack in reg 2.35.
AHL Betting Tips (17-20, +0.13u): 0.5u on Hershey in reg 1.10.
Where To Bet the Non-NHL Leagues:
Canadians: Bodog and 888 Sports.
Americans: Bovada.
Everyone Else: 888 Sports.
Follow @BetNHL
BetNHL.ca » Tonights Tips »