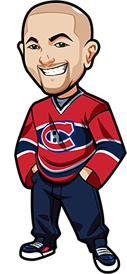 Written by Graeme on Friday, February 15th, 2013
Follow @BetNHL
Well it only took about 5 days for Leafs fans to come back down to earth. After days of hearing how they were Stanley Cup contenders, the general consensus is they're crap again. That was after an uninspired performance against the Hurricanes on Thursday night. Should be interesting to see if they can bounce back from that. The Washington Capitals actually showed some life with a big win against the Tampa Bay Lightning, and my Habs squeezed out the 1-0 OT win over Florida.
Some big games tonight, February 15th, 2013. The Chicago Blackhawks will be looking to bounce back after their loss but the San Jose Sharks is going to be a tricky game. Boston go to Buffalo which is usually always a good game, and the resurging Flames hope to take a big scalp and a big leap forward, with a win over the St. Louis Blues.
Let's look at the February 15th, 2013 NHL Betting Picks:
Boston Bruins vs Buffalo Sabres Betting Tips: Bruins To Win
It's no secret that the Bruins have been a machine lately. They're on a very strong run and are looking to get their 5th road win against the Buffalo Sabres, a team they beat last week. However they did struggle at home against the Rangers a couple of days after that.
Buffalo meanwhile, have looked poor. Especially at home. They can't string two wins together, and are struggling hard. Boston will be coming into this game strong, and the idea of a "Sabres revenge" will be the furthest thing from their mind. Expect a tight game, but the better team to come out on top. I'm seeing -150 at most places, but you can get a nice -134 on the Bruins to win at Pinnacle. Not the best odds for a road team, but away disadvantage doesn't seem to be part of the Bruins vocabulary at the moment.
Chicago Blackhawks vs San Jose Sharks Betting Tips: Blackhawks To Win
This is the NHL, not a fairytale. Sure there's a good story here – the Blackhawks were just proven not to be invincible. The Sharks are on a 6 game losing streak, and the writing is on the wall: a great time for the Sharks to turn things around.
Except this is the Chicago Blackhawks. I've watched every game they have played this season – they are incredible. And the bookies are giving the best current team in the NHL, with home advantage, against a team on a 6 game losing streak – just -135 odds? That's what Pinnacle are doing, and I'm all over that one.
Chicago Blackhawks vs San Jose Sharks Betting Tips: Goal in First 9:30
Remember their last matchup? There was an incredible SIX goals with just 12 minutes gone. SIX.
Blackhawks know how to score. Sharks themselves know how to put the puck in the net, and this is going to be a frantic opening. The Blackhawks hoping to remind everyone that there are no problems and their last game was just a blip, and the Sharks knowing how important a morale-killing first goal could be. You can bet Follow @BetNHL

BetNHL.ca » Tonights Tips »