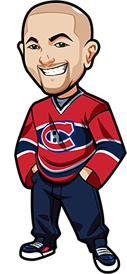 Written by Graeme on Wednesday, February 15th, 2017
Follow @BetNHL
It was a good night with the NHL last night as we went 2-0 with the betting tips and we also won our AHL Tip.
That Devils bet yesterday is basically my favourite bet to make – because I feel it takes the pressure/potential blame off me and more onto the Devils. They can make the playoffs, they're talking about making the playoffs – if you're a playoff team you'll prove that by going out and beating the Avs. If they win great if they don't – welp, not a playoff team. As it is while they won I'm not sure I have much confidence on them in the future.
The Leafs picked up a massive win last night. I've seen some people expecting them to regress in this part of the season. I don't know if I see it though. There's been little spurts of games where they've played poorly but they know how to pick themselves up and I'd say they're pretty damn good for a playoff spot at this point.
It's been a tough season betting wise but it's been good for us – we're a lot more strict now about every tip and each time we come up with one we throw it in for some extra analysis. We're about 2-3 good nights away from being in the black for the season with the NHL which is nice – and the AHL/OHL/WHL have made it a profitable betting season for us.
We move onto February 15th, 2017 however we have no betting tips today.
We were very tempted by the Blues to win but I just couldn't pull the trigger on that. Best odds I could see were 1.85 and I'd like a little bit higher. It's been a long road trip for the Blues and I'm not sure how much fire they have left in them. The Wings are back home and although their confidence may be depleted from their last few results it's not like they were playing easy teams.
From what I read coming out of the Wings camp they're about to accept that they're not going to make the playoffs. Their schedule isn't the prettiest either. However they match up well against the Blues and St. Louis aren't exactly a beast on the road.
I do think the Blues can probably win but I just can't pull the trigger on the bet.
The other game we were looking at was the Sharks/Panthers. I was highly conflicted on this one. First I liked the Sharks to win but it'd have to be in regulation. Panthers have had some solid performances lately and are 10-10-7 on the road. That stat is too scary for me as they just keep games super tight and I don't have faith in regulation.
So then I looked at Over 5 goals. However only about 32% of Sharks games at home when the line is set at 5 have went Over 5 this season(that's discounting pushes). That's a scary stat and the more I think about that one the more I think we'd be hoping for a push.
So no bets today in the NHL but be sure to read the comments as I'm sure there'll be a lot of people with bets on the various games and I can weigh in with my opinion on anything.
OHL / WHL / AHL Betting Tips::
(All below systems are based mainly on mathematics and statistics with very little human input and are deemed experimental. Previous Records: OHL 15/16 28-15 (+17.15u)
WHL Betting Tips(25-24, -2.81u): Medicine Hat Tigers in regulation at 1.60 odds.
AHL Betting Tips(26-16, +10.60u): Toronto Marlies 1.77 incl OT/SO.
OHL, WHL & AHL Betting:
Canadians: Bodog and 888 Sports.
Americans: Bovada.
Everyone Else: 888 Sports.
Follow @BetNHL
BetNHL.ca » Tonights Tips »