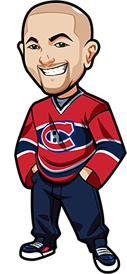 Written by Graeme on Friday, February 15th, 2019
Follow @BetNHL
A 1-2 night last night with the NHL Tips for a 0.5u loss.
Our win was with the Blackhawks in regulation. A scary start to that one with the Devils looking up for it and taking an early lead. Blackhawks bounced back strong though and looked excellent in doing so. They ran out 5-2 winners.
We lost with the Habs over the Preds. That was one where the more I looked at it the more I wasn't liking it. Based on the performances of the teams though, I think in retrospect the price was still right for the Habs there. Rinne had to come up big for the Preds especially in the second period and i twas one of those games that could have went either way.
The Sharks pick over the Caps though will haunt me for the rest of the season.
It's a rarity to see the Capitals as underdogs. And when a team with the firepower of the Caps are underdogs, we're always looking to blindly back them. Take when they were home underdogs against the Flames on Feb 1st for example. We backed them then, primarily because "Capitals" + "home underdogs" does not compute.
So when I saw the Caps were decent underdogs yesterday I went into it hoping to back them. Alas it went the other way – everything I saw didn't just turn me off backing them but swayed me in backing the Sharks.
I've approached the Sharks this season with a lot of caution. So to be swayed like that against the Capitals with a team like the Sharks? Just had to go with it. Just a nice – albeit rather harsh – reminder that we can never underestimate the Capitals.
Interestingly if I recall – it came out last year after the season that Trotz was in danger of losing his job. They had been playing poor for two months straight. If they lost in San Jose he was possibly going to get fired. They then went to San Jose and won 2-0 and that was a massive turning point for the Caps that season as they went 12-3 for the rest of the season then of course won the cup. Will be interesting seeing if that's the case this year.
Oh well – been awhile since I received quite the slap in the face like that. I dig it. Get's you motivated.
4 games on Friday, February 15th 2019. Sabres take on the Rangers with the Rangers playoff dreams fading fast. Buffalo still in with a chance though. Big game for the Canes as they host the Oilers and hope to push for the wild card spot. Minnesota need to get back on track if they want to make the playoffs and a good chance will be at home to the Devils. Ducks hope to keep the run going
Ducks vs Bruins Betting Tips:
Decent little spot to back a home underdog here in the Anaheim Ducks.
Bob Murray came in as head coach, started a rookie goaltender and they beat the Canucks 1-0 with a shutout. It wasn't a stellar performance or anything but that's got to be a huge boost in confidence and may just turn the team around. They looked more aggressive in that game and I love seeing something like that.
One thing to remember too is the Ducks have been on the road a LOT. Their home record is actually impressive with an 11-8-8.
Bruins are without Pastrnak. That didn't matter against the Blackhawks but I'm pretty sure they could replace Pastrnak with me and I'd still be able to score against the Hawks.
Just seems a decent spot to back a nicely priced home underdog.
1u on Ducks incl OT/SO if Boyle starts. If he doesn't for some reason, only 0.5u.
Canada: 2.60 Odds at Sports Interaction + free $20 bet. If you are Canadian and haven't used that free bet yet, this is a good time to do it!
USA: +155 Odds at Bovada.
Everyone Else: 2.50 Odds at Bet365 (Americans: We recommend http://www.bovada.lv.
(Odds correct as of 2019/02/15 9:39:13 AM EST but are subject to change.)
Hurricanes vs Oilers Betting Tips:
I mean this just seems like an automatic bet.
The Hurricanes are performing well. They always perform well in the advanced metrics but it's showing up in the results column a lot more this season. A big game as they need a win to keep the pressure on in the playoff race.
Oilers just make me sick. It's a sad case for the West that they could still make the playoffs too. However they don't look like they deserve it at all. Just 4 regulation wins in 2019 over the Coyotes, Ducks, Sabres and Wild.
If the Oilers show up and are able to take this one then so be it. That's hockey. But I just believe the Hurricanes are the right bet here.
1u on Hurricanes in Regulation
Canada: 1.95 Odds at Sports Interaction + free $20 bet.
USA: -115 Odds at Bovada.
Everyone Else: 1.83 Odds at Bet365 (Americans: We recommend http://www.bovada.lv.
(Odds correct as of 2019/02/15 9:39:13 AM EST but are subject to change.)
OHL / WHL / AHL / KHL / Czech Extraliga Betting Tips:
(All below systems are based mainly on mathematics and statistics with very little human input and are deemed experimental. )
KHL Betting Tips (10-9, +0.10u): 0.5u on Barys incl OT/SO 1.75 odds.
Czech Extraliga Betting Tips (8-3, +2.76u):
OHL Betting Tips (17-13, +1.04u): 1u on Sagina in reg 1.70. 0.5u on Sudbury in reg 1.85.
WHL Betting Tips (27-9, +8.43u): 1u on Saskatoon Blades in reg 1.90. 0.5u on Everett Silvertips in reg 1.85.
Where To Bet the Non-NHL Leagues:
Canadians: Bodog and 888 Sports.
Americans: Bovada.
Everyone Else: 888 Sports.
Follow @BetNHL
BetNHL.ca » Tonights Tips »