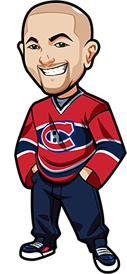 Written by Graeme on Thursday, February 16th, 2017
There was no NHL Tips yesterday, but it was a fun night of hockey. The Jackets got a good win against the Leafs which was an important one for them.
We were leaning towards the Blues yesterday and they got a 2-0 win over the Red Wings in a tight game. As I said yesterday we would have taken that but just weren't fans of the odds on that one.
The Flames beat the Flyers 3-1 as the Flyers struggles continue. They're getting the shots on net but they're just not going in. Sometimes it appears they're trying to be fancy when your goal should just to be to put the puck in the net.
We were leaning towards the Sharks and the Over in the Sharks/Panthers game and the Over hit as the Panthers beat the Sharks 6-5 in overtime in a great game. What a horrible start to the game that was for the Sharks.
Bigger slate tonight with 8 games.
Islanders vs Rangers Betting Tips:
Always a good game between these two. Rangers are killer lately on the road and offensively while conceding a lot as well. Islanders are hit and miss but coming off that Leafs loss as well as being at home and in this game in particular, I like them to hang tough with the Rangers.
Over 5.5 Goals
Wild vs Stars Betting Tips:
We've got a goalie dependent bet here.
If Kuemper is in net: We'll take the Over 5.5 Goals. the Wild were shut out against the Ducks but man did they try – it was as if Gibson had a concrete wall in front of his net. Don't see any cause for concern with the offense. Stars are dreadful at the moment but are able to put the puck in the net.
if Dubnyk is in net: We'll take Wild to win in regulation. Similar to above but Dubnyk doesn't concede the way Kuemper does obviously.
We're hearing Kuemper is likely in net.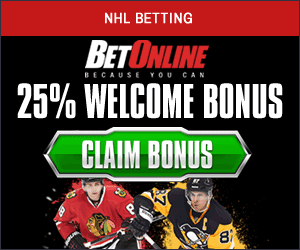 Penguins vs Jets Betting Tips:
It's really hard to look beyond the Penguins here. The only negative – and it's a bit of a big one of course – is that Fleury is in net. That's why the line in the Over is so high in this one no doubt. Jets offense has been solid but we'll roll the dice and take the Penguins at home here. Penguins in Regulation.
Kings vs Coyotes Betting Tips:
Have to take the Coyotes to win here with the Kings coming off the bye week. It's a small sample size but teams coming off their bye week have a piss poor record. I feel there's value in Arizona tonight due to the bye week.
OHL / WHL / AHL Betting Tips::
(All below systems are based mainly on mathematics and statistics with very little human input and are deemed experimental. Previous Records: OHL 15/16 28-15 (+17.15u)
OHL Betting Tips(19-14, +3.17u): Peterborough Petes in regulation 1.70.
Best America Sportsbooks for NHL
BetNHL.ca » Tonights Tips » February 16th, 2017 NHL Betting Tips