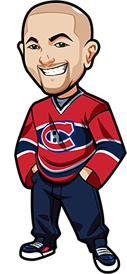 Written by Graeme on Sunday, February 16th, 2020
Follow @BetNHL
Well it was another completely inefficent offensive performance that cost us yesterday. The Islanders could only muster 19 shots total on the Knights net, with half of those coming in the third period, as they lost 1-0.
Varlamov also ended up having a clinic as he put up 42 saves to keep the Knights at bay.
Another offensive performance cost us as well, although in a different way. Tampa hadn't scored more than 2 goals (excluding empty netters) in their last 4 games. However they got off to an early start yesterday and that set the story for the game. Disappointing. My big question was whether Philly would be able to get the goals yesterday. I felt they would and they were able to get them – but it just wasn't enough as the Tampa offense got the job done.
It was a day with quite a few upsets. I said yesterday you just never know when that Blackhawks offense is going to come alive. They came alive yesterday as they put 8 past the Flames to win 8-4. Yet there is just as much chance that they get shut out today by the Jets. I just can't figure them out.
Coyotes beat the Caps in an upset too. The Habs almost pulled off a surprise win over the Stars but Dallas fought back and stole it in OT.
On a personal level it wasn't too bad yesterday as I was able to go 2-0 in the XFL. There's two more games taking place today so check out my XFL Betting Tips if you're looking for action. To save you a click I'm taking the Renegades -5 and the Roughnecks -7.5.
It's a rare busy Sunday in the NHL. We have 9 games on the board.
After looking through them all, I have decided on no tips for today. These last two days with the completely inefficient offensive performances have thrown me off. I find myself looking at the games but then being able to muster the confidence to back any. Sometimes it's important to take a day off and regroup.
Some quick thoughts:
– On paper Penguins should have no problem covering the point spread against the Wings. However other than that Habs game they haven't won by at least 2 since the Wild game on the 14th of January.
– With the way the Devils are playing, I quite fancy them to be up for the game against the Jackets and possibly pull off the upset. However despite injuries and recent results, it's hard to bet against the Jackets knowing their ability and what is on the line for them.
– Stars should really win their game. It'd have to be in regulation. I haven't dived into the metrics for today but that's one that I think is a strong contender for a pick.
– Leafs/Sabres game could go over. Buffalo aren't doing too bad, coming off that Jackets game, should be up for it. Leafs concern me a lot right now though.
– Jets/Hawks is one I probably wouldn't touch with a gun to my head. Jets had that brutal offensive performance against San Jose. I'd like to think they bounce back for this one or that both teams go at it offensively but I just can't get behind anything here.
So yeah no bets for me today. Be sure to check the comments to see what others are betting and if you are making bets or have opinions on the games, feel free to post! Always love seeing what you guys bet.
Follow @BetNHL
BetNHL.ca » Tonights Tips »