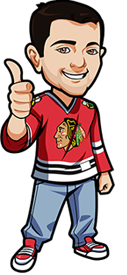 Written by Scott on Sunday, February 17th, 2013
Follow @BetNHL
A huge win for the Toronto Maple Leafs last night, as they passed a really strong test. Games against the Ottawa Senators in prior seasons are the type of games that the Leafs would usually blow – so that was a huge victory for them and a great morale booster. I'd be betting the Leafs to make the playoffs for sure after that one.
Speaking of morale boosters the Habs had a huge one against the Flyers, who look a skeleton of the team that they once were. Lot of high scoring games yesterday and some fun ones.
Today, Sunday February 17th 2013, we've got another average sized board with 7 games on. The Capitals will be hoping momentum sticks with them for their visit to New York to take on the Rangers, the Jets and Kings look to cause big upsets against the Bruins and Blackhawks respectively, and there's a real interesting game in Vancouver with the Canucks taking on the St Louis Blues.
Let's get on with February 17th, 2013 NHL Betting Tips:
Penguins/Bruins Double: +194 Odds
I'm going to recommend a nice double bet here – where you need both picks to come in. You will want to place this bet at Bet365 – they give 50% more on accumulators.
We're betting here two bets together – the Pittsburgh Penguins to beat the Buffalo Sabres and the Boston Bruins to defeat the Winnipeg Jets.
Both these bets individually are -140, which is $14 to win $10 on each, or $28 to win $20. However when we bet them both together the odds become a whopping +194, meaning instead of $14 to win $10, you're betting $10 to win $19.40!
Those odds are only available At Bet365 so go bet it now. If you're not sure how to bet doubles it's real easy – click the Penguins money line win to add it to your bet slip, then click the Bruins money line win to add that to your bet slip. Then click on the right hand side "Multiple Bet Options" to expand the column. You will then see "Doubles" and that's where you place your stake.
Boston Bruins vs Winnipeg Jets Betting Tips: Under 5.5
This is another one where I'd recommend betting at Bet365 we're getting a nice -115 on the line as of this writing, and it's higher elsewhere.
After a shock defeat against the Sabres, the Bruins are going to come out to this game and play conservatively. While I expect them to win, I don't expect them to take many risks. Pavelec is conceding 3.15 goals per game at the moment which is a slight concern – but I really can't see the Bruins putting up the numbers here. They'll be happy with a 2 goal lead then grinding the game out. Jets meanwhile will probably pick up 1 goal but I can't see this being anything other than 2-1 or 3-1 to the Bruins.
So Bet The Under 5.5 at Bet365.
Vancouver Canucks vs St Louis Blues Betting Tips: Canucks -1.5 Puck Line
We're going to complete the trilogy of bets at Bet365, who have the Canucks handicap line at +205.
Canucks have been getting better as the games going on. Even more importantly they were reminded of a valuable lesson in their last game – they can't take their eye off the puck. They got complacent against the Stars, and an easy 3-1 lead turned into a 4-3 deficit.
We're going to see a stringent, strict Canucks team in this game and with the Sedin brothers really linking up well lately, I can see the Canucks taking the Blues apart. So go with the puck line bet at Bet365.
Follow @BetNHL
BetNHL.ca » Tonights Tips » February 17th, 2013 NHL Betting Tips