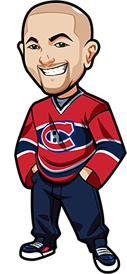 Written by Graeme on Saturday, February 17th, 2018
Follow @BetNHL
It was a winning night with both our 0.5u play and our 1u play last night.
We had the Flyers to break their 11 game losing streak in Columbus that stretches back to 2005. They managed to do that winning 2-1 in a nervy overtime period.
We also had the Jets in regulation and they did the business, getting the big win that we expected as they dominated the Avs 6-1.
From a betting perspective I absolutely love the Jets this season. One of those teams that are always underpriced and not getting the respect they deserve in terms of the odds.
Quick note about live chat – some people had requested a live chat to discuss the games and live betting during the actual games.
I've been testing out various things over the last couple of weeks and no surprise the only real solution will be a paid solution. I've no problem paying it but I want to make sure people get use out of it at first.
So I'd like to encourage everyone to hang out the comments during the games today and tonight and post any live betting tips or thoughts that they have and start doing that for the next little while.
Once I see that there is a demand for it, I'll get the actual chat room going. In the meantime Disqus is set up very well for live events and notifies you when there is new posts etc and automatically refreshes its DB.
Perfect day for it today with games going practically all day long.
If you're not sure what live betting is… it's also known as "in play" betting where you can bet during the game and the odds update based on the current result/stats and what's happening on the ice.
So if you're watching the Habs vs Knights tonight – the Knights are 1.42 to win the game currently – and the Habs get an early goal, the Knights odds will most likely change to something like 1.65 which will increase the longer the game stays that way etc.
If you know what you're doing and are able to either read a game or just crunch the stats together, you can make a profit. Live betting is the way to go with 1/3 of action at sportsbooks like B365 and Sports Interaction being on live betting.
These are the recommended sportsbooks for live betting:
Canada: Sports Interaction or Bet365 (Americans: We recommend http://www.bovada.lv.
USA: Bovada.
Everyone Else: Bet365 (Americans: We recommend http://www.bovada.lv.
I'll try and be around for the afternoon games at least.
Let's get to the tips with a 1u play and two 0.5u plays today.
Penguins vs Leafs Betting Tips:
Leafs are back in free flowing goal scoring mode. Penguins are in beast mode at home BUT it's their offense doing the work with their defense and goalie still extremely poor. Leafs will want to keep this run going.
Only game this season between them was also in Pittsburgh where the Leafs came out 4-3 winners.
All signs point to another high scoring game.
Over 6 Goals incl OT/SO
Unit/Confidence Betting Tips:
(We are experimenting with adding unit/confidence to our betting tips. For more details see this post.)
Pens/leafs Over 6 is 1u.
Sabres: 0.5u. Kings have always struggled in Buffalo and with the teams performances lately this is a no brainer bet. Only reason it's not 1u is Phaneuf might give the Kings the lift.
Capitals: 0.5u. Have to bet them based on the odds as much as it concerns me. Saw some positives from the Hawks last time out and these games are usually tight so can't go the full hog on this one.
See you all for the live betting today. Remember:
Canada: Sports Interaction or Bet365 (Americans: We recommend http://www.bovada.lv.
USA: Bovada.
Everyone Else: Bet365 (Americans: We recommend http://www.bovada.lv.
OHL / WHL / AHL / KHL Betting Tips:
(All below systems are based mainly on mathematics and statistics with very little human input and are deemed experimental. )
OHL Betting Tips (27-17, +8.77u): Barrie Colts in regulation at 1.85 odds.
AHL Betting Tips (32-31, -0.84u): 0.5u double of Toronto/LeHigh both in reg at 2.56 odds. Chicago Wolves in reg 1.80 odds.
OHL, WHL & AHL & KHL Betting:
Canadians: Bodog and 888 Sports.
Americans: Bovada.
Everyone Else: 888 Sports.
Follow @BetNHL
BetNHL.ca » Tonights Tips »