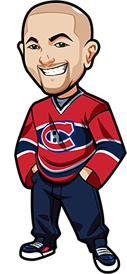 Written by Graeme on Friday, February 17th, 2023
Follow @BetNHL
It's Friday, Friday, Gotta get down on Friday.
Man – over 10 years since Rebecca Black released that song. Scary.
Some good hockey last night and the highlight of course was the catfish being thrown onto the ice at the Preds game. Amazing scenes.
The East wild card race is pretty damn intense with so many teams who can make it. I mean Wings, Sens and Sabres all have a bunch of games in hand over Caps, Panthers and Islanders so could be real good if they win those.
Let's look at Fridays batch:
Islanders vs Penguins:
Two teams battling for the playoffs – well sort of. Not the most overwhelming results. Pens at least bounced back from that Kings loss.
Books have this as pretty much a 50/50 type game and that seems right. Pens slight favourites – I might place it the other way. But they are so hard to back with their defense. Nothing here.
Senators vs Blackhawks:
Sens massive favourites. By the metrics? Yeah I'd agree with that. Their big flaw in this one is their defense – although thankfully the Blackhawks is worse.
Question is if you can trust them on the puck line. When you look at recent results it's hard to trust them on that. I think they'll cover, but it's more due to the Blackhawks weaknesses than the Sens strengths. Sogaard is in net and that adds to the risk factor of it.
Basically I think Sens probably cover but it's way too much of a gamble.
Wild vs Stars:
Minnesota come in struggling hard. No regulation wins since exactly a month ago. Brutal.
Dallas come in also not exactly outperforming teams. Books have them as tiny favourites.
If we look at the metrics, they do lean in favour of Dallas. Of course this is their first road game in practically a month. Will that be good or bad for them? Lat time they had a decent home stretch they lost their first road game away to Penguins. Time before that – even though it was only 4 games – they lost to the Avs.
If Fleury was in net I might take the Stars. But with Gustavsson, it's a pass. Long as Dallas shut down Kaprizov though they should be good.
Ducks vs Kings:
LA have came out from their break on fire. Two big home games. Another big win and they will turn over their negative goal differential.
Now they take on the Ducks who have been getting battered.
If you're backing the Kings, you're taking them -1.5 on the road. They've covered that 6 times on the road out of 28 games. Not very reassuring. But the Ducks are a good team to burn. The Ducks goal metrics and overall Kings defensive metrics aren't good though as they show the Ducks should be good for some goals.
Over 6.5 goals incl OT/SO if Copley NOT in net
Ontario: 1.80 Odds at Sports Interaction (SIA) - Non-Ontario bet $10 get $200
Canada: 1.80 Odds at Sports Interaction (SIA) - Non-Ontario bet $10 get $200
USA: -119 Odds at BetOnline.
Everyone Else: Odds at 1.80 Bet365 (Americans: We recommend http://www.bovada.lv
(Odds correct as of 2023/02/17 11:01:05 AM EST but are subject to change.)
Oilers vs Rangers:
Tough one to call. Both offenses overperforming at the moment. Shesterkin generally helps out the Rangers but hard for him to contain this offense.
Oilers can always just disappear at a moments notice, but I feel the Rangers offense should continue to do their job and that should raise the Oilers to that level. Always like an over when it's based on two hot offenses as opposed to two weak defenses.
Over 7 incl OT/SO
Ontario: 2.05 Odds at Bet365 (Americans: We recommend http://www.bovada.lv
Canada: 2.05 Odds at Bet365 (Americans: We recommend http://www.bovada.lv
USA: +105 Odds at Bovada
Everyone Else: 2.05 Odds at Bet365 (Americans: We recommend http://www.bovada.lv
(Odds correct as of 2023/02/17 11:01:05 AM EST but are subject to change.)
Follow @BetNHL
BetNHL.ca » Tonights Tips »