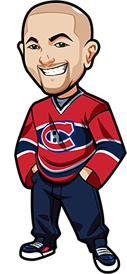 Written by Graeme on Friday, February 18th, 2022
Follow @BetNHL
A 1-2 night last night.
We had the Blues -1.5 but they couldn't even win as the Habs got a surprise 3-2 victory in OT.
Similar with Rangers. Had them in regulation and they ended up going to OT where they lost.
Won with the Capitals over the Flyers in a big 5-3 victory thanks to a big 3rd period from the Caps.
Nice win for the Leafs last night. They are looking like a legitimate contender this year. I really hope they don't as man all my friends who are Leafs fans are unbearable – but when I look at the teams playing this season, they are the ones that really stand out to me as potential cup winners.
Quiet day today as per usual with four games. A fairly quiet Saturday actually as well, although Sunday is a bit busier. I'll take that sort of spread out schedule over the nightmare days of 12 games.
Hurricanes vs Predators:
Canes come in on the back of some mixed form. Preds come in on a run of three straight up losing games at home. They have yet to win since returning from the all star break.
If we were to take the Canes, it would have to be in regulation. You know I don't like to bet on games involving the Preds, so I am going to skip this one. Canes by all accounts should win here I think. They've played some tough teams generally and on paper, this is an easier one.
Wild vs Panthers:
Ooof – no prediction here. Wild coming in off that loss to the Jets but are now at home. This game could have a ton of goals but the bookies have that factored in. Over 6.5 goals at 1.76 odds – no thanks.
Nothing here. I'd like to back that over but it's just not worth it for me.
Blackhawks vs Stars:
Stars just way too overfavoured for my liking. They are coming off that huge and impressive win over the Avs. There's always something weird about those matchups where the two teams play each other back to back.
Stars have been a lot more impressive on the road lately. I don't hate them here but I feel with the Hawks starting their six game homestand off with that Jackets loss, they are going to be more motivated and fighting more for it tonight. No bet.
Knights vs Kings:
Eichel played his first game for the Knights which was nice to see. It wasn't the best performance but that's expected – he's been off for so long, plus a new team etc. It will take time.
That is two games in a row the Knights have been shutout which is a concern. Once they get ticking though – watch out.
Kings have only played the one game since the all star break and it was a loss at home. Most teams seem to struggle post all star break and turn it around after that first game.
Honestly if I was to back a side here, I'd take the Kings. They have been the more impressive team to me. They are a solid road team with an 11-6-5 record. If we look at advanced metrics for the last 10 games, Kings have been the better performing team. Much better Corsi, Fenwick etc. xGF is the same but xGA Kings are much lower which is impressive. Their offense still isn't converting like they should though.
I just am not seeing enough to convince me on this one. I do feel like it's a decent enough play – but I am not feeling overwhelmingly confident in it enough to advise it.
Follow @BetNHL
BetNHL.ca » Tonights Tips »