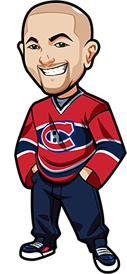 Written by Graeme on Saturday, February 18th, 2023
Follow @BetNHL
It was a winning night yesterday in spectacular fashion.
We had the Oilers/Rangers game to go over 7 goals. A hefty amount. The Oilers went up 4-1, then incredibly blew that lead and lost 5-4 in a shootout.
Amazing stuff by Edmonton.
Funny to see why the Kings/Ducks game was goalie dependent. Copley was doing a great job prior to being ejected, then Quick comes in and leaks in the goals.
Islanders/Penguins had a banger. I leaned slightly on the Islanders there but with the defensive metrics of both teams it was hard to call and their defenses were a mess last night as expected.
Let's get on with Saturdays slate. And let's go Sami Zayn! Ole, Ole, Ole.
Predators vs Panthers:
Preds come in struggling. Panthers come in – eh. Inconsistent. Bookies don't have Panthers as high favourites as I'd expect – but they know how bloody random the Preds can be.
Can't take Panthers with their defensive metrics. Over is tempting but you need the Preds to kick in the goals and it looks like their offense hasn't yet returned from the All Star break. Won't surprise me if they get going here against the Panthers. I could see this going over and if it was 5.5 or 6 I'd be on it I think but 6.5 is a bit much for hypothetical Preds goals.
Blues vs Avalanche:
First Tarasenko, now O'Reilly. Blues giving up. Yet post all star break they're in that weird no pressure zone where they're just killing it. Have to be wary of that.
Avs are kinda getting the results but not in that resounding, confident way. Blues overperforming offensively but the Avs do have weak defensive metrics and rely on goaltending.
Don't have the confidence in the Avs. I do see a lot of people on them today but I'm wary.
Bruins vs Islanders:
Bruins got a much needed big win over the Preds and come home to host the Islanders, who played yesterday. Bruins offensively should have no problem with the Isles, and should be able to shut them down enough on the D front.
I like this matchup, and the odds are barely there for our betting threshold. Tad wary of the handicap just because the Islanders offense is ticking.
Bruins in Regulation
1.71 at Bet365 (Americans: We recommend http://www.bovada.lv and no odds yet at most places but BetOnline. is probably going to be the best ones for Americans and anyone else who can bet there.
(Odds correct as of 2023/02/18 7:38:20 AM EST but are subject to change.)
Penguins vs Devils:
Neiother team really has my confidence right now for any bets.
Stars vs Blue Jackets:
Dallas are just not worth taking the handicap at the moment based on their current run. Especially with the last few Jackets results.
Leafs vs Canadiens:
Would have to be Leafs -2.5 or backing the Habs. Neither seem appealing. With the inconsistency of the Leafs, and how these games sometimes go, a bet on the Habs probably isn't the worst thing in the world. By the metrics this is more a one goal game win for the Leafs.
Hurricanes vs Capitals:
I'd love to take the Canes here but outdoor game so nah. Arena game I'd be all over them but generally stay away from the Stadium series games.
Flames vs Rangers:
It's very similar to yesterdays game. At the moment, you have the faith in the Rangers offense to get it going. Their defense is conceding. Flames are similar to Oilers in that there is games where their offense just dies. By the numbers, this should go over. You just have to be prepared for Calgary to let you down.
B2B for Rangers but didn't stop the machine against Carolina on the 11th.
Over 6.5 incl OT/SO
Ontario: 1.83 Odds at Bet365 (Americans: We recommend http://www.bovada.lv
Canada: 1.95 Odds at BetOnline.
USA: -105 Odds at BetOnline.
Everyone Else: 1.95 Odds at BetOnline.
(Odds correct as of 2023/02/18 7:38:20 AM EST but are subject to change.)
Canucks vs Flyers:
Ooof no. Slight lean on the Canucks which the bookies have priced that way.
Knights vs Lightning:
Knights coming in on a nice post all star break run. Tampa coming in off that Coyotes game.
First real big test for the Knights since the break. By the metrics? I don't hate them honestly. I'd probably price this one as a pickem and so miniscule value on the Knights here.
Kings vs Coyotes:
Kings in regulation is tempting but man – the Coyotes haven't lost in regulation in their last 7 games. Metrics aren't overwhelming for Kings in regulation, so it's a pass.
Kraken vs Red Wings:
Nothing here. Some of the metrics actually point to an upset by the Red Wings. Primarily based on their goals scored and SCGF/60. Basically their offense is overproducing. It's iffy whether that continues against Seattle or not. If you're looking for a dog to bet today, Wings are probably the best one.
Sharks vs Sabres:
Neither team really inspiring at the moment. The metrics lean slightly towards Buffalo but the Sharks are creating a lot of good chances and Buffalos goaltending stats are a concern. No bet.
Follow @BetNHL
BetNHL.ca » Tonights Tips »