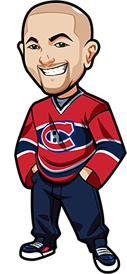 Written by Graeme on Friday, February 19th, 2021
Follow @BetNHL
Well Scotts over/under bad luck run continued yesterday as the Pens/Isles game came one goal short from going over. And this one pisses me off because of how we went about making that pick behind the scenes. We both thought the over was a possibility based on the prior games between the two but the question was the Islanders D.
The majority of the discussion yesterday was whether the Islanders would concede goals or not. This season is a bit messed up in that you can't really count overall data. Teams aren't playing that mix of quality throughout the season that they normally would.
So we spent a lot of time looking into that and our conclusion ended up being correct – that the Islanders generally concede goals to the better sides. Like Varlamov as an example had conceded 3 in 17 shots in one game against the Flyers, 5 in 22 shots against the Caps etc. We ended up actually being very confident that would happen – and that proved to be the case. Pens were able to put 3 past Varlamov.
Unfortunately at the other end of the ice, that just didn't happen. And hey that sort of thing happens in hockey – while the Islanders aren't an offensive juggernaut the Pens concede a fair amount of goals. But man it was just so frustrating focusing strongly on that part of the analysis – being correct – but still coming out on the losing side.
In saying that I always like to look at the positive – yesterday was a day where we really spent a great deal looking into weighted stats and metrics based on opposition. We've been aware of it of course and look at it but this time in particular we spent a ton of time on it and I think that will bode well for the future.
It's one thing I always say win or lose – always take the time to do additional research. Always keep learning etc. If you use a 1-3 unit system and your 1u bet won convincingly take the time to look at it and see if you should have bet 2u or even 3u on it and why you didn't etc.
Also how about that Rangers vs Antwerp game yesterday? Absolute banger. No surrender.
Half my job today was trying to figure out if the Hawks vs Canes game is on tonight. A few sportsbooks have pulled it and tomorrows game has been postponed. I think it's still on? Okay wait I see now. Hurricanes are playing Tampa tomorrow instead of Chicago. Sure why not. And as far as I can see, Blackhawks vs Hurricanes is still on. Yeah I dunno man I'm not even going to bother looking into that one. Let's look at the others:
Flames vs Oilers:
Bookies have Flames as slight favourites. Flames come stuttering in here after a rough series against the Canucks but they do have that win over the Oilers from earlier in the month that they are riding.
Oilers are that team where I'm always so mixed about backing. On one side it's so frustrating backing them considering certain players abilities then they just don't get the job done. On the flip side if I lose the bet it's not too bad – I basically just say "lol Oilers" and move on with my life.
This is the type of game where you can usually throw the form book out the window. In saying that I am going to keep said form book in my hand, and use it as a reason to back the Oilers. Look Oilers lost the last Battle of Alberta so they are HOPEFULLY going to be extra motivated here. They take that sorta thing personally out West.
Calgary right now just are really stumbling etc and when you look at the stats/metrics etc the Oilers are the better team.
Flames might lift themselves up for this game. They've did it before. Like I said form book out the window etc. They've won 8 out of the last 11 against the Oilers I believe.
But if we go by the numbers, I feel happy taking the Oilers as miniscule dogs here. The over 6.5 is tempting too of course. I don't even know why the Oilers play with a goalie. Just six man it all game probably get better results. There's just something about this game where I like the Oilers to win more than I do that play. BetOnline. giving us positive coinflip odds too. Hell yes!
Oilers incl OT/SO
Canada: 2.02 Odds at BetOnline..
USA: +102 Odds at BetOnline..
Everyone Else: 2.02 Odds at BetOnline..
(Odds correct as of 2021/02/19 11:37:35 AM EST but are subject to change.)
Canucks vs Jets:
This is one of those games I am quietly looking forward to. Like both teams are still in the mix in the North Division and both have pros and cons to them.
Canucks come in after a decent series against Calgary after finally stopping their brutal skid. Leafs & Habs will do that to you. The Canucks are looking like one of those teams that will on an average night get pumped from the top teams but hand out said pumping to the lesser teams. That means you Ottawa.
Then you have the Jets who are…..kinda good? Team inconsistency to the freaking max. Hey let's thump the Sens 5-1 then lose to them 2-1 two days later. Sure why not makes sense.
Interestingly if we classify Habs & Leafs as the elite of the division, Jets have only played once against said elite and lost. That was the Leafs when they lost 3-1.
These two teams played in January and the Canucks beat them 4-1.
Crap I am talking myself into a Canucks pick here. Okay let's see – Canucks don't have any goaltending going on right now but Holtby finally stepped up last time out. In saying that most of his bad numbers are against the elite. He's above .900 if we take them out. Shit he is .940% if you take those two teams out.
Jets likely will start Hellebuyck. When you look at the game breakdown you can basically flip a coin on how he'll perform. I mean a .966 SV% one night against the Sens then a .857 the next? Sure why not.
Team metrics – if we look at the offensive advanced stats Jets you can probably compare them more to the Flames. Canucks D is scary as highest xGA/60 in the league and of course 2nd highest GA/60. A lot of that is due to the games against Leafs & Habs though. Some of the Flames games are in there too at the top but other Flames games are at the bottom so it kind of balances out.
Congrats you just read my entire thought process where I went into this one thinking "Seems too close to call" then convinced myself to back the Canucks based on a combination of Holtby and weighted metrics.
I almost want to suggest regulation time here simply because based on my reasoning for this, I'd rather do the risk at higher odds. But hey let's not get too crazy. Can't wait for the Jets to put 6 past Braden.
Canucks incl OT/SO if Holtby is in net – UPDATE: HE is not 🙁 No play.
Canada: 1.91 Odds at Sports Interaction (SIA) + free $20 bet.
USA: -111 Odds at BetOnline..
Everyone Else: 1.90 Odds at BetOnline..
(Odds correct as of 2021/02/19 11:37:35 AM EST but are subject to change.)
Red Wings vs Panthers:
Panthers pretty strong favourites here. Red Wings gave Panthers their first regulation loss of the season earlier this month. This is now the 5th matchup between these teams. Panthers are 3-1 in the "series" however every victory for Florida has been hella tight.
Panthers are on the road and they've been decent enough here. Decent enough at home too.
I think Panthers take it. But I don't have the confidence to back them in regulation and based on their results it's not worth betting them there anyway right now. In saying that I think the best bet mathematically is the Red Wings. But my god I just can't bring myself to back Detroit.
Other potentials are the Under 5.5 and the Red Wings +1.5 but the latter is too weak odds for me. I think the under might be a decent enough play and if the game explodes then it is what it is. No bet here as nothing I feel the confidence in enough to advise.
Follow @BetNHL
BetNHL.ca » Tonights Tips »