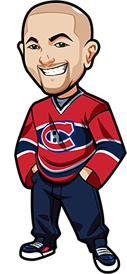 Written by Graeme on Saturday, February 1st, 2020
Follow @BetNHL
We end the month on a nice little winning note, going 2-0 in the NHL and also 3-0 in the non-NHL tips for a 5-0 day. Love it.
It was a night with 5 heavy favourites and all 5 won. Nice to see in terms of "hey that makes sense!". All the games were close though.
We took two of those favourites. The first was the Rangers to beat the Red Wings. Despite a goalless first period you just knew New York wouldn't be held at bay and they blasted the Wings for 3 in the 2nd half and ran out 4-2 winners.
We had Washington to beat Ottawa and they did so. They picked up a 2 goal lead which with the Capitals is always concerning as they can take their foot off the gas. However every time Ottawa scored they matched them and held onto the lead until the end, with Ovi getting an empty netter to wrap it up.
Fun night of hockey. Some clinical finishing by the Pens in their game.
It's Saturday, February 1st and boy do we have a busy day with 14 games on the board. 3 early games as well. Then we've got the Battle of Ontario AND the Battle of Alberta today. Going to be a good day of hockey I think. Hopefully we can get the month off to a winning start.
While there are a lot of games and it's a lot of extra work, I think the post all-star break makes it a bit easier. If you omit the break for example the Panthers would be a good bet over the Habs, or the over in that game. However will Panthers start sluggish? Especially when it's an early game? Just big question marks there that I feel make it easier to skip.
It also leaves you wondering if you're leaving money on the table though. Jackets are a pretty solid price over the Sabres but they're missing a few players. Buffalo have looked terrible their past few games and that SHOULD be a pretty easy win by the Jackets but just too many questions there.
I really really want to take the Wild tonight. The spot they are in is my favourite bet to make. If they want to make the playoffs then they have to win clinical games like this. Especially coming off the break against a team who are on a B2B. But from what I read they had an absolutely brutal practise yesterday and felt very rusty. That concerns me here against a team like the Bruins.
Leafs vs Senators Betting Tips:
Always a high scoring clash between these two teams, and the line is not surprisingly set at 7. On paper however, I think they can go over that.
I like the way the Leafs are playing at the moment. They're actually going out there looking like they want to win. That's something rare from the Leafs this season. However going into the all star break out of the playoffs was great for them I feel in terms of mentality. They had a couple of lame games at home recently but I think they'll be up for this one.
Ottawa have no chance of making the playoffs but have came out of the break with an offensive first approach. They'll be wanting to win this rivalry clash obviously. All the offensive advanced metrics like CF and HDCF and xG have been very high lately.
Clutchinson is in net tonight for the Leafs which is a good sign.
2u on Over 7 Goals incl OT/SO
Canada: 2.18 Odds at BetOnline..
USA: +118 Odds at BetOnline..
Everyone Else: 2.18 Odds at BetOnline..
(Odds correct as of 2020/02/01 11:13:35 AM EST but are subject to change.)
Rangers vs Red Wings Betting TIps:
I see absolutely no reason not to go back to the well on the Rangers to beat the Red Wings again.
I wrote a bunch about it yesterday. Not much has changed other than the goalies and the venue. The venue is the key one of course. Wings are slightly better at home. Rangers are slightly worse on the road.
I don't feel AS confident. That's for sure. However I still feel there is value in them. I think there is more than a 50/50 chance the Rangers win this game in regulation. Looking back at historical data there's nothing concerning in regards to trends for these B2B games.
0.5u on Rangers in Regulation
Canada: 2.02 Odds at 888 Sports.
USA: -110 Odds at BetOnline..
Everyone Else: 2.02 Odds at 888 Sports.
(Odds correct as of 2020/02/01 11:13:35 AM EST but are subject to change.)
Sharks vs Lightning Betting Tips:
Tampa are one of those teams I've just hated backing this season. Even though in the last 6-7 weeks they have been performing as they should – they still concern me. However looking at this game I couldn't talk myself off taking Tampa.
They thumped the Sharks once already this season. McElhinney is expected to be in net which I mean isn't good but the Sharks have a long injury list and have a poor offense anyway. That loss to the Canucks was a tough one for them and considering they need to win practically every game to make the playoffs will hurt them.
Tampa offensively have looked good following the break. They're putting in the effort and I can't see complacency being an issue. Sharks losing Hertl along with Couture is very tough for them.
Tampa have a 7-0 record over the Pacific this season and you know that sort of thing spurs a team on.
I could see the Sharks winning of course. I mean it is hockey after all. But I just see enough factors in here to keep the Lightning motivated to take this game.
0.5u on Lightning in Regulation
Canada: 1.98 Odds at 888 Sports.
USA: -115 Odds at BetOnline..
Everyone Else: 1.98 Odds at 888 Sports.
(Odds correct as of 2020/02/01 11:13:35 AM EST but are subject to change.)
Non-NHL Betting Tips:
Written by Graeme
(All below systems are based mainly on mathematics and statistics with very little human input and are deemed experimental. Use at your own risk.)
WHL Betting Tips (7-5, +0.87u): 0.5u Prince George in regulation 1.92 odds. 0.5u Edmonton Oil Kings in regulation 1.70 odds.
AHL Betting Tips (14-16, +1.14u): 0.5u on Hershey Bears in reg 1.88 odds. 0.5u Milwaukee Admirals 1.92 in reg. 0.5u Wilkes-Barre/Scranton Penguins in regulation 1 95.
Where To Bet the Non-NHL Leagues:
Canadians: Bodog and 888 Sports.
Americans: Bovada.
Everyone Else: 888 Sports.
Follow @BetNHL
BetNHL.ca » Tonights Tips »