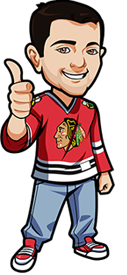 Written by Scott on Wednesday, February 1st, 2023
Follow @BetNHL
There was 3 games yesterday but I didn't have any tips. I had mentioned that the odds for the games would need to be in regulation and two of the three games needed overtime.
The Caps were up 2-1 after the 1st but the Jackets outscored them 2-1 over the final 2 periods to force OT. It took Kuznetsov 26 seconds to score the winner for the Caps 4-3.
The Canes were up 1-0 after the 1st but the Kings scored 4 unanswered in the 2nd to take the 4-1 lead. The Canes scored 3 in the 3rd to tie it and force OT where Aho won it 5-4 for their 6th win in a row.
Stutzle scored 2 and added 2 helpers when the Sens held one for the 5-4 win. This was another close game that had Tkachuk score with just over a minute left to take the lead.
Only 2 games today before the All-Star stuff begins. The Skills competition is on Friday and the All-Star game tournament is on Saturday.
I'm skipping having any tips for today's games.
Hurricanes vs Sabres
The Canes played last night against the Kings and won in dramatic fashion overcoming a 3 goal deficit in the 3rd to complete the comeback.
The Sabres have gone 6-2-2 over last 10, 5-1 in last 6 games and they are the top ranked offensive team scoring 3.76 per game.
I would lean towards a Canes win here but the Sabres are playing well and again with a long break ahead for these teams it's tough to say who wins here. Plus the Canes had a crazy comeback yesterday so who knows how much they have left in the tank after that.
Bruins vs Leafs
The Bruins have lost their last 3 games and all were on the road. Despite the losing skid they are still comfortably in 1st place in the Atlantic and the League.
The Leafs are 6-3-1 over last 10 and at home where they have gone a great 20-4-4.
The Bruins are 3rd and the Leafs 8th in GPG and the Bruins 1st and the Leafs 6th in GAPG. This could and should be a good game.
With both teams off until at least the 10th of February who knows which version of these teams will show up here. The Leafs without Matthews and Murray here. The Leafs are a deep team offensively so they can shuffle lines and Samsonov is fine in goal.
Follow @BetNHL
BetNHL.ca » Tonights Tips »