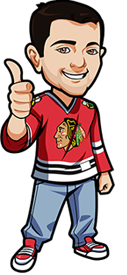 Written by Scott on Tuesday, February 19th, 2013
Follow @BetNHL
Good night of hockey: Sharks got their first win in the month of February, The Leafs lost to the Lightning and then their was the game of the night the Canucks vs the Blackhawks
What an amazing game this was. The Hawks tied the record and still haven't lost in regulation. And like the last time these teams played it went to a shootout but this time the Blackhaws won. They are just unreal right now. But hopefully Marian Hossa will be ok as he has a history of head injuries.
Only 3 games for today: The Flyers vs Penguins, which is always a great game when its the battle of Pennsylvania. Also it's the Blues vs the Avalanche and the Kings vs the Flames.
Being that there is only 3 games on I'm going to take a different approach for tonights tips: I will NOT be picking who will win or lose the game but that certain things will happen in the games and each of these props that I am recommending all offer betting odds around Even
So let's get to the tips for Wednesday February 20th
Flyers vs Penguins: Will a Goal Be Scored Before 9:30 – Yes
This game should be an action packed game with goals being scored early and often. The Will A Goal Be Scored Before Or After 9:30 is a fun betting option and one that should be bet on with before.
It's no secret that these teams don't like each other. The Flyers will look to keep the momentum going after their 7-0 win over the Islanders the other night. And the Penguins are looking to win to extend their current winning streak to 4 games.
So be sure to jump on That a Goal will be scored in this game before 9:30 over at Bet365, the home of the best betting options out there.
The Odds for this were set at a respectable -103 at Bet365
Flyers vs Penguins: Over 5.5
As I mentioned above, this game will be a goal fest. I have no idea who will win this game but I know that it will be high scoring one Over 5.5 goals scored in this game seems like a safe bet to me and one you should get on.
And at Even odds for this bet its important to jump on this before [geocode id=5 comes to their senses and drops this well below even, down to around -120 where I expected it to be.
It's a battle of Atlantic Division rivals who also happen to both call Pennsylvania home. So as you can imagine pride will play a huge role in this game. And with both teams having plenty of firepower, I would still call Over if it was at 7.5 Go take advantage of this Easy Money Over 5.5 bet at [geocode id=5
Kings vs Flames: Team To Have First Powerplay – Flames
The Los Angeles Kings played the Oilers last night and are bound to sluggish, And Sluggish means sloppy which translates to bad decisions. The Flames had last night off and are playing in their own barn. The Flames will get the first Powerplay
Expect the Flames to have control of their emotions, body's and sticks in this game as they try to prove that they are ahead of the Kings in the standings for a reason. This is a great betting prop available at Titan Bet so be sure to take advantage of this.
The Team to have the first PP is a fun way to bet on a game which doesn't affect the outcome of the game. And the only place to grab the +105 odds for this is at Titan Bet
Follow @BetNHL
BetNHL.ca » Tonights Tips » February 20th, 2013 NHL Betting Tips