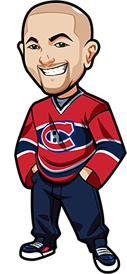 Written by Graeme on Saturday, February 20th, 2021
Follow @BetNHL
A 1-0 night last night.
We took the Oilers to win in the first of a back to back Battle of Alberta and they were able to deliver. It was a quieter game goals wise than usual but not a big surprise considering the trend of both teams going into this.
We had the Canucks IF Holtby was in net but he wasn't. Demko was in net and conceded just the one goal. My initial thoughts there were I was hoping for the Jets to win to give us better odds on Sunday if Holtby is in net then. However the Canucks lack of being able to finish last night was a tad concerning.
We'll see how the odds are on Sunday.
Today we've got an absolutely massive slate of games so as per usual I will pop in, give quick thoughts on each game and if there is something I like then I'll look more into it.
Write-ups gonna be short for some.
Devils vs Sabres:
The Devils come into this one on a big momentum run. 3 wins in a row including over the Sabres (who prior to that beat them in a shootout). Now Devils are at home. Sabres returned from a long COVID break and have been dismal with some poor offense.
Buffalo really aren't showing anything at the moment. Devils do have a very high xGA/60 but then Caps are pretty close there too although Islanders have a low one.
Blackwood has mostly faced the Bruins and been solid enough in terms of quantity of shots saved.
I didn't mind Buffalo earlier in the season – I remember backing them against the Caps and I felt they could show enough fight. But right now they are seriously struggling. If they're able to pull it off here then so be it but I'm happy to go with the Devils here while the Sabres offense struggles.
Devils incl OT/SO if Blackwood is in net – He is
Canada: 1.80 Odds at Sports Interaction (SIA) + free $20 bet.
USA: -126 Odds at BetOnline..
Everyone Else: 1.79 Odds at BetOnline..
(Odds correct as of 2021/02/20 11:58:54 AM EST but are subject to change.)
Capitals vs Rangers:
Hell of a price on the Capitals. Rangers are an absolutely terrible team. In saying that Rangers did stun the Caps 4-2 earlier this month. Caps defense is looking good right now and that goes up against a misfunctioning Rangers offense.
If I could look into this one more I'd be looking at whether Caps in regulation is the play or not. I think so but man matinee games always scare me even though I have analyzed them and not seeing anything off.
Caps win incl OT/SO
Canada: 1.74 Odds at BetOnline..
USA: -135 Odds at BetOnline..
Everyone Else: 1.74 Odds at BetOnline..
(Odds correct as of 2021/02/20 11:58:54 AM EST but are subject to change.)
Penguins vs Islanders:
The Islanders had a nice run stopped by the Pens two nights ago. Like I covered we analyzed the hell out of that one.
We've got another over of 5.5. I already covered this game in depth. I can trust the Pens to get the goals. What about the Islanders? Jarry in net tonight so I'm happy with that.
I'm good to look at that last game as an anomaly.
Over 5.5 Goals incl OT/SO
Canada: 1.93 Odds at BetOnline..
USA: -107 Odds at BetOnline..
Everyone Else: 1.93 Odds at BetOnline..
(Odds correct as of 2021/02/20 11:58:54 AM EST but are subject to change.)
Avs vs Knights:
Outdoor game. Not picking. Can't wait for it though. Lake Tahoe setup is sick.
Red Wings vs Panthers:
Good to see the Panthers offense get the win last night as they should. I like when a result that should happen does happen. Not going to touch this one today.
Coyotes vs Kings:
I mean just neither team here is really backable for me. Kings are chugging away at the moment and getting a little streak going which is nice to see after their problems earlier in the season.
The odds for the Kings are very tempting at around 2.30 – 2.35.
This is one of those games where I bemoan the amount of games we have today. I think there is enough value to bet the Kings here but it may be goalie dependent. However I would need to spend a ton of time exploring this one and just don't have the time. Depending on how my day goes I'll see if I can look at it more in the afternoon and post something in the comments but no promises.
Blue Jackets vs Predators:
In game 1 between these two I was pushing to take the Jackets. The issue with the Jackets that made us decide not to go with it is that they are just so bloody hard to trust. You can't back them with any degree of confidence I feel yet.
However my reasoning for the bet was just how bad the Preds are. They are a BAD team right now. In saying that – they were a bit unlucky the other night too. Jackets got the bounces.
The way the goals occured might frustrate the Preds and get them coming out here fired up. But man their injury list is huge right now.
I'd love to back the Jackets here but there was a few iffy things about that last game that concern me. Plus like I said I was pushing to tip them the other night so the fact that we didn't and they won may be clouding my judgement somewhat.
Blues vs Sharks:
Blues are surprisingly huge favourites here. Surprising price They will be without Barbashev. A ton of Blues tight games. Could never advise the Sharks here obviously but man that almost feels like one I want to gamble.
Hurricanes vs Lightning:
No bet on this one. In theory it should be an absolute banger with lots of goals but that hasn't been the case for a lot of games recently between the two. No bet but I hope it ends up being game of the night.
Canadiens vs Leafs:
These two just played and the Habs were able to pull it off. I'd lean Leafs here I think after a couple of struggles they have regained their focus. No bet though.
Ducks vs Wild:
Nothing here.
Oilers vs Flames:
No bet on this one. I mean nothing from last night really puts me off the Oilers but not comfortable enough with their price.
I actually really like the over tonight but the incoming offense stats are off putting. Yet if you look at recent similar Oilers wins like that – Flames will put 5 past them tonight. Yeah nothing here.
Follow @BetNHL
BetNHL.ca » Tonights Tips »