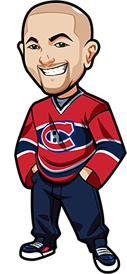 Written by Graeme on Sunday, February 20th, 2022
Follow @BetNHL
Hi all,
Well it was a disappointing night last night, as apparently I backed a few teams who decided to play the entire game with an empty net. Must admit I am impressed with the technology these days – seeing the Leafs use a Jack Campbell hologram is fairly impressive.
They got thumped 6-3 by the Blues, who were without Tarasenko. I swear there is no fanbase which blames the refs more than the Leafs fanbase. The missed too many men, the slash on Sandin blah blah blah – I don't think the Leafs have lost a game legitimately this season, if you hear it from their fans perspective.
Props to the Kings for that massive 3rd period. Thought we might be taking that one. It shows how crucial a goal can be – that goal late in the 2nd period was a big momentum shifter and Kings came out up for it, Coyotes flat.
Canucks – man, that is one where in hindsight I look at it and I can see some concerns about the Canucks defense there. Over might have been the better play. Flames got the win alas couldn't cover the spread.
Sucks – but that Canucks one is the only one I look back with regret. Leafs with the way Campbell had played previously, and Tarasenko out? Yeah gotta take that and Tarasenko out seemed like a gift. Coyotes was a big dog play that might have been different if not for that 2nd Kings goal. Flames I said yesterday was a pure data pick. Such is the joy of betting on hockey.
A very busy Sunday here so let's get to it:
Penguins vs Hurricanes:
This really feels like a right 50/50 game at best – so the fact that the Canes are slight underdogs here and above 2.00 is quite appealing. Some decent value there. Penguins haven't had a great run at home lately. Just one regulation win in seven and that was against the Coyotes.
Canes though come in with some roughish form, and their recent road results are nothing impressive. Maybe slight value in Canes but I can't say with any real confidence. Plus early games, bleh.
Islanders vs Canadiens:
I mean I just can't back the Habs at this time. Islanders it would have to be the handicap. It's so hard to bet a team on the handicap with the type of form they have lately though. By all accounts, they SHOULD beat up on the Habs. Habs are coming off a huge homestead and their first road game since January 24th. They might be up for it that much more.
Feel like Islanders -1.5 is the play, but just don't have enough confidence in the Isles right now to back it.
Blackhawks vs Panthers:
I've said it before but I just don't feel good about betting the Panthers on the road too much. The odds just have to be good enough for me – and for them to win in regulation at 1.71, they are not.
Senators vs Rangers:
I'm having flashbacks to last weekend where the Sens lost to the Bruins then thrashed the Capitals. Similar circumstances here except Sens not on the road this time. Rangers stumbling a bit too right now.
Looking at recent back to backs, Sens actually have a goddamn good record on the 2nd leg for whatever reason. Beat the Jackets, the Caps, the Hurricanes. It could just be an anomaly but I don't feel good about backing Rangers in reg here.
Jackets vs Sabres:
Jackets come in playing decent hockey and getting the results. Sabres come in off losses to the Avs and Sens. Jackets rested.
These two teams had a real close one over a week ago, with the Jackets winning 4-3 in overtime. Laine has been good for them which I always like is a player on a streak.
That was a very tight game. But I have to think with the venue change, and a bit of confidence in them, the Jackets can do it here. They're the better side, and I think it's a decent enough price for us.
Jackets in Regulation – edit: with Berube in net, best to skip this one.
Canada: 1.95 Odds at Casumo
USA: -105 Odds at BetOnline..
Everyone Else: 1.95 Odds at Casumo
(Odds correct as of 2022/02/20 10:37:18 AM EST but are subject to change.)
Coyotes vs Stars:
This would have to be Stars -1.5. Now earlier in the season I wouldn't consider them on the road but it is like fortunes have reversed – struggling at home, putting in the performances away. They probably get the job done but I am not a fan of handicaps on the road.
Oilers vs Wild:
Man – Oilers have themselves a nice little streak right now don't they? Now they go against a Wild team who have lost their last two.
This will be a big test for them as it's their first game against a top 10 team in this current run.
No bet on this one. Curious how it will go. Woodcroft is 3 wins away from beating Geoff Wards start at the Flames – have to wonder if that gives the Oilers extra motivation. I don't see a bet I can advise here.
Sharks vs Knights:
Oof no. Knights probably? But I mean it'd have to be in regulation and they have a lot to sort out.
Follow @BetNHL
BetNHL.ca » Tonights Tips »