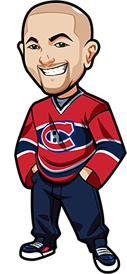 Written by Graeme on Sunday, February 21st, 2016
Follow @BetNHL
A 1-2 day yesterday.
It started off well with the Penguins/Lightning going over. Despite the high scoring game it was really a dull one with Lightning dominance right from the beginning and the Penguins never really threatened to get back into it.
I went for a risky Capitals -1.5 as opposed to in regulation, but that didn't pay off as the Capitals won by 1 goal. The New Jersey Devils offense stepped up big time last night and that was a really good game to watch. The 1st period system correctly predicted the Devils would win the 1st period at 4.50 odds so that was a really nice pay day.
It also correctly predicted the Blues victory over the Coyotes in the 1st period for a 5.35 unit profit day for that system. I've got it on my to do list to tally up the stats for that and the overtime system and I'll get to it today or tomorrow.
We ended the night with the Avalanche vs the Oilers and man – what a brutal team the Edmonton Oilers are. I mean you can usually count on them at home to throw in a solid performance – but they were absolutely dreadful last night. My concerns about the over were on the Avs and if THEY could get the goals – but instead it was the Oilers. They are an absolute disgrace at the moment and I just hope they get their shit together for the sake of McDavid.
Today we've got a more manageable schedule of 6 games. That's pretty much what I find ideal for a night as it gives us a lot of betting options, however also allows us to focus strongly on every game.
Sportsbook of the day is Bet365 (Americans: We recommend http://www.bovada.lv who are killing it today with their odds – I saw Ducks in regulation for just 1.70 at some books. We can never recommend Bet365 (Americans: We recommend http://www.bovada.lv enough for non-Americans.
Sabres vs Penguins Betting Tips:
The Buffalo Sabres offense are really clicking the last few games. They scored 4 against the Jackets last night, 4 against the Avs a few days ago and 6 against the Habs. Although that last one is probably pretty low if you're playing against Montreal.
They host the Pittsburgh Penguins who have their own issues of course. Not sure who is in goal for the nets – hopefully Zatkoff – but I'm taking the over on this one either way.
While the Pens offense is stuttering a bit they're not as bad as the media make out at the moment. They just get a ton of extra focus because – well it's the Penguins. They also never have problems scoring against Buffalo.
Over 5 Goals.
Canada: 1.86 Odds at Bet365 (Americans: We recommend http://www.bovada.lv.
USA: -120 Odds at GT Bets
Everyone Else: 1.86 Odds at Bet365 (Americans: We recommend http://www.bovada.lv.
Ducks vs Flames Betting Tips:
It would be a huge upset if the Flames pull off a win here and I just can't see it happening. The Ducks, who have one of the oddest schedules in the NHL, have played just 2 games at home since January 21st. However they had a huge road trip that they passed with flying colours and they'll come into this game confident.
The Flames have a couple of regulation wins since the all star break but 2 of those were against the Canucks and one against the Leafs so not exactly Stanley Cup opposition there. The Flames have the 2nd worst record on the road in the NHL.
Have to take Ducks in regulation here and just hope there's no fatigue or mental aspects from that gruelling road trip that take their toll.
Canada: 1.90 Odds at Bet365 (Americans: We recommend http://www.bovada.lv.
USA: -125 Odds at BetOnline..
Everyone Else: 1.90 Odds at Bet365 (Americans: We recommend http://www.bovada.lv.
OHL Betting Tips:
I'm not happy with the quantity of picks for this system. It generally looks for value on the money line but in the OHL, there's rarely value there as you can see by less than 30 picks throughout the entire season. I'm going to be doing a more risky handicap based system for the rest of the season so just a heads up on that. As a reminder this is an experimental betting system still.
Take the Ottawa 67s to beat the Oshawa Generals at -120 odds. Also the Kingston Frontenacs -1.5 at +120 odds vs the Niagara Ice Dogs. FInally Mississauga/Sudbury Over 7 at -130 odds.
Bet the OHL at:
Canadians: Bodog and 888 Sports.
Americans: Bovada.
Everyone Else: 888 Sports.
Experimental Betting Systems:
Overtime System: Sabres/Pens at 3.40 odds.
1st Period System: Canucks 3.00 odds at Bet365 (Americans: We recommend http://www.bovada.lv.
Americans: Bet 1st Periods at BetOnline. or Bovada.
Follow @BetNHL
BetNHL.ca » Tonights Tips »