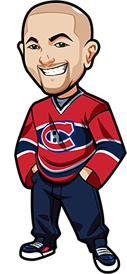 Written by Graeme on Sunday, February 21st, 2021
Follow @BetNHL
Well it was a bit of a bloodbath for most people betting last night and unfortunately, we got caught square in the middle of it.
The day started with two losses in the matinee games. Although I said yesterday I've looked through the data (many times) and not seeing anything "off" in regards to matinee games compared to regular games – add yesterdays two games to the list of confirmation bias I guess.
We had the two favourites – the Devils and the Caps – to win. Both lost. Neither team decided to show up.
I said yesterday if the Sabres offense randomly came alive and we lost due to that then so be it – that's hockey. But this was one was on the Devils. If it wasn't for Blackwood it could have been an even worse result. That's why I rolled with Blackwood yesterday and despite the goals conceded quantity he played damn good and made some big saves.
As for the Caps – ugh. What I was surprised most there was that they didn't get fired up after they conceded that goal in the 1st. That's usually the thing that motivates the Caps.
Islanders/Pens went sort of like expected alas without that one extra goal. Islanders hammered Jarry in the first period and had an xG of about 1.5 there but just couldn't get it past him. It is what it is.
Looking at my other games and thoughts – hopefully some of you got on the Kings yesterday. Unfortunately I didn't have the chance to analyze that game to see if it was worth the bet. Honestly after those two matinee games I decided to stay away from betting/analyzing any more hockey that day.
Jackets didn't win so glad I stayed away from that one. I think Scott was right to stay away from Game 1 between the teams (even though Jackets won) because the Jackets are just an unbackable lot. Sharks won in the gamble that I expected it to be. Leafs got the win which I leaned. Oilers got the win but the odds just weren't worth it I felt. Didn't expect that scoreline honestly.
So yeah a crappy betting day but looking at the rest of the games and my thoughts and how the losses went down – overall fine with it. Not much you can do when two teams don't show up and another goaltender, who has been playing crap, decides to.
Also what a mess that Lake Tahoe game was ha. Flyers vs Bruins has been pushed to 7:30pm EST today which really sucks as me and Scott had arranged to get together for the first time since mid-December for the game.
Now we get to sit there and watch the two teams that let us down yesterday duke it out instead. Good stuff.
Capitals vs Devils:
Two teams who are well rested after taking a day off yesterday. I mean they probably shouldn't have considering they had a hockey game but hey Ovi needs his beauty sleep.
The Capitals have been a mess since the beginning of February. Devils just had that run ended and will look to bounce back. Will they be as fired up as the Sabres were though?
Possibly Wedgewood and Samsonov in net. Too many questions about this one. I'd like to say the Caps take it in regulation but I just don't have enough confidence in them right now to do so. It's just so hard to turn around from yesterdays performance and back a team like that. If the Caps were a bounce back team then hey sure but they haven't shown that this season. The fact that the Rangers 1st goal didn't fire them up was concerning.
Senators vs Canadiens:
Theoretically, this is the type of game the Habs need. The problem is the Sens raise their game against the Habs. Now the Habs should still have the quality to see that off – but look at the Sens this season. The first game against their big two rivals – the Leafs and the Habs – they put in a stellar freaking performance.
Here's the problem – it's very hard to justify betting the Sens. Even at the 2.86 price. Chabot might be out too. Without him they are not good.
Honestly if Chabot is playing I'd say gamble it up, bet the Sens. But I doubt he is and I'm going to stay away.
Bruins vs Flyers:
Outdoor game so no bet. Probably what the Bruins need after that long road trip. They look like they need something fresh and looked a bit stale against the Devils. Bruins seem to have Flyers number this season but who knows on this game. Don't hate the under 5.5 but yeah with the mess of an outdoor game I will pass.
Canucks vs Jets:
Ah here we go. Game 1 I covered on Friday. I went into it not expecting a bet and came out of it backing Canucks if Holtby was in net due to my analysis. He wasn't and they lost 2-0.
I was hoping for a Jets result to give us better odds today but I must admit Canucks being grannied was a concern.
Will that fire them up? Canucks had a ton of chances. So it wasn't the goalie situation. Holtby could have been in net there and it wouldn't have mattered. We got lucky there honestly. The fact that Brossoit stood tall there is crazy.
Hellebuyck is confirmed for today. Not sure about the Canucks goalie yet.
If we look at the last time Canucks got shut out this season they lost 2 days later 5-2 to the Flames. Not very convincing. They also had a struggling series against the Leafs then the Flames before their offense had issues again.
However they did put 3 past Hellebuyck in the 4-1 victory end of Jan.
Honestly? I want to take the Canucks if Holtby is in net. I'm willing to gamble based on my initial analysis from Friday. But sorry – it's not something I can advise. There are just too many negatives in regard to the Canucks here.
Looking at the under here. That last game had a high XG and Hellebuyck is Jekkyl & Hyde. That's a concern.
Ah man – I hate betting unders. But I think there is enough reasoning to do so here and I think the price just has enough value. I don't think I can risk it on Demko though have to stick strong with my Holtby analysis.
Under 6 incl OT/SO if Holtby is in net
Canada: 2.04 Odds at BetOnline..
USA: +104 Odds at BetOnline..
Everyone Else: 2.04 Odds at BetOnline..
(Odds correct as of 2021/02/21 9:57:50 AM EST but are subject to change.)
Follow @BetNHL
BetNHL.ca » Tonights Tips »