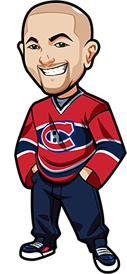 Written by Graeme on Monday, February 21st, 2022
Follow @BetNHL
Well I must admit – my favourite result yesterday was not the Habs pulling out another victory, but the absolute slaughtering of the Edmonton Oilers by the Minnesota Wild.
I've got a lot of friends who are Oilers fans and the comments I have heard this past week have been unreal. Not even tongue-in-cheek either; these guys practically expected to be handed the Stanley Cup.
Then first time they go up against a top 10 team and fold like a cheap umbrella.
Betting wise I initially tipped the Jackets in regulation yesterday. It was noted a bit later in the morning that Berube was in net, so I put in a quick edit on that one. If you bet on it prior to the edit – like I did – then man was it a hell of an exciting game. I was loving that one.
It was overall an interesting day yesterday. Looking back at all the other games I passed on – glad I did. Most of them were bullets dodged. I did feel the Canes had slight value but that was very tight value wise, and the game showed that.
Five game Monday with some early games. Let's get to it. Something I've noticed this season is I have made very few over/under bets. Not sure why that is really – just something where I have gravitated away from them this year.
Bruins vs Avalanche:
Avs decent favourites here – if betting them it would have to be in regulation. They're coming in off wins over the Sabres and Knights. Bruins come stumbling in.
Avs good on the road, Bruins aren't anything special at home and I've said before I really don't rate the Bruins too much this season. In saying that, they raised their game against the Avs in January and took the game to OT.
Not convinced enough on this game to bet. There are better spots.
Flyers vs Hurricanes:
Canes come in on a back to back after that Pens win. They are facing a rested but very poor Philadelphia Flyers team.
Canes are just too high odds for me to consider but I can't see any way to bet on the injury plagued Flyers. Canes are a little rocky at the moment. At this price, I just can't advise a bet.
This one does have the potential to go over. I hope I'm not saying that just because I noticed I haven't been looking at over/unders as much this year. Canes last few games conceding a lot of goals while scoring.
On a back to back and they have mixed results there.
The concern for me is looking at the advanced metrics since the all star break. Despite the goals, the Flyers have had some of the lowest figures in Corsi, Fenwick, xGF.
Canes actually have a high xGA/60. Flyers look like that team which are basically playing without any real pressure at the moment and a lot of guys can step up.
Oh ha – I analyzed all this without looking at the line. That's something I normally do so I don't have any bias in regard to the line. Anyway it's 6.5 not 6 so that's a pass for me. If it was over 6, I'd back it.
Flames vs Jets:
Oh god not WInnipeg – do they play EVERY FREAKING DAY? I swear they have haunted me every day I have did tips. My god take a day off lads.
Flames on their run. Tight one over the Kraken. I really don't want to bet games involving Winnipeg anymore. Flames can tie their franchise history longest winning streak today.
Jets have piled up the injuries the last few days. I mean on paper Flames blast them away here. Yet I just feel concerned. Jets have cost me a bit lately winning or losing, and this whole streak business concerns me. It can really mess with the mentality of a team. Sure it can also make things more positive – but man I dunno.
At 1.74 odds for an in regulation win, it's just not enough for me. Jets concern me.
Canadiens vs Leafs:
No bet here. Couple of solid games for the Habs lately, Leafs turned upside down by the Blues. The refs will no doubt be out in force because of their clear bias against Toronto. Leafs -1.5 is like 1.71 no thank you.
Canucks vs Kraken:
After the way the Canucks disappointed us against the Ducks – no interest in backing them.
In saying that – the over is 5.5 goals so let's look at that.
Canucks and Kraken have top 10 worst xGA/60 since the All-Star Break in 5 vs 5. Both cancel each other out with the lowest xGF/60 of course but both are demonstrating woeful goaltending at the moment.
Canucks may not have Burroghs today which won't help them defensively.
Grubauer had a great game against the Flames. Can he carry that momentum in here?
These two played back in January and Vancouver blasted them 5-2. Kraken haven't been too shabby in the goal department lately.
I do believe there is enough here to back Over 5.5 Goals. Even when they put up solid defensive performances, the Canucks usually bring the goals as well. I looked through Grubauer's stats and on the rare games he has a great performance, he never really follows it up.
Canada: 1.84 Odds at BetOnline..
USA: -119 Odds at BetOnline..
Everyone Else: 1.84 Odds at BetOnline..
(Odds correct as of 2022/02/21 9:28:46 AM EST but are subject to change.)
Follow @BetNHL
BetNHL.ca » Tonights Tips »