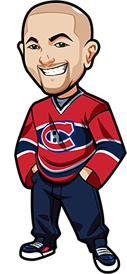 Written by Graeme on Saturday, February 22nd, 2020
Follow @BetNHL
A 1-0 win last night as the Islanders covered the 1.5 goal spread. The game went exactly as I expected and was a statement game from the Islanders although we had a brief scare at the end. Bernier stood strong all game and the Red Wings were able to score a 6 on 4 goal. Luckily the Islanders were motivated and Eberle got a hat trick as the Islanders ran out 4-1 winners.
The New York Rangers brought it last night which was nice to see. I completely blanked on the fact that the moms were going to be there for that one otherwise I probably would have ended up backing that one. That always seems to motivate a team. Look at the Wilds performances with the dads with them the last couple of games.
Something like that always amuses me. These guys are being paid a hell of a lot of money and have thousands of fans cheering them on every night and so on. However it's their mom or dad watching them live that gives them that drive.
In the poll you all predicted Rangers vs Hurricanes would be the highest scoring game of the night. That came 2nd to the Wild vs Oilers game which only got 9% of votes.
How about that Bruins vs Flames game? Hockey always amuses me like that. 6 goals in the first then just the 1 goal the rest of the game. Why not.
It's Saturday, February 22nd and we've got our usual busy day. Tomorrow is a busy one too. Then we get back to a bit of a relaxed schedule which is nice.
[poll id="108″]
$25 risk free bets on player prop, in-game bet and $50 risk free mobile bet. Available for NEW customers only at BetOnline.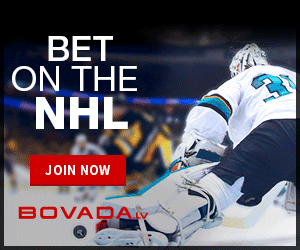 Devils have to be a good value bet today. We talked about that game a bit in the comments yesterday. I don't believe the dads have followed them here unfortunately. Probably for the best. Honestly if you're looking to bet the Devils, somewhere like Bet365 (Americans: We recommend http://www.bovada.lv is great due to the cashout option. Devils go up 2-0 and you can cash out before the Capitals mount their comeback.
Habs/Sens could go over. However games involving the Habs/Sens/Leafs have been trending downwards in quantity of goals lately so that's enough to keep me off it.
Bruins are probably a good bet against Vancouver but I generally stay away from betting against the Canucks when they are at home. Not that their record is mindblowing or anything they just look much better there.
Panthers/Knights like the Rangers game yesterday on paper goes over. I have to question the Panthers drive unfortunately and they haven't convinced me yet.
Leafs vs Hurricanes Betting Tips:
I mean after that Pittsburgh performance we have to bet the Leafs right?
Sure they are such a hard team to back. They don't show up so often it's like they're all on part time contracts. But this team has to be absolutely buzzing not just from that Penguins win, but the reception they are receiving from fans.
That should motivate them here.
Hurricanes are hot and cold and coming on a back to back.
Leafs have let me down before and they may let me down again but man – I gotta back that momentum. The OT/SO line odds are fine but I'll go a step more.
1u on Leafs in Regulation
Canada: 2.05 Odds at 888 Sports.
USA: +100 Odds at Bovada.
Everyone Else: 2.05 Odds at 888 Sports.
(Odds correct as of 2020/02/22 8:19:34 AM EST but are subject to change.)
Penguins vs Sabres Betting Tips:
Sabres are all "we need to win every game to make the playoffs" but they quite simply aren't and their chances of it are miniscule.
They've certainly put in better performances recently however that Senators result will have shell shocked them. It's possible the extra days off gives them the drive to try and get the win here but it's also just as possible that reality has stepped in.
Penguins received a humbling loss in Toronto and I think the way that one was handled – this team will come out strong here.
Pens can be a bit tricky. Not so much this season but in prior seasons they often go in random little slumps. Hoping that isn't the case here and that they come out motivated to wipe away that humbling loss.
Their xG looks like it's ripe for an upswing. Sabres however have been performing better offensively these last 3 games than they have all season long. So that's a concern as the Penguins are a bit weak defensively at the moment. This could end up being a high scoring game.
However I'll do a play on the Pens here as I do think they will be the more motivated team.
0.5u on Penguins in regulation
Canada: 1.72 Odds at 888 Sports.
USA: -150 Odds at Bovada.
Everyone Else: 1.72 Odds at 888 Sports.
(Odds correct as of 2020/02/22 8:19:34 AM EST but are subject to change.)
Follow @BetNHL
BetNHL.ca » Tonights Tips »