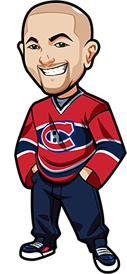 Written by Graeme on Saturday, February 23rd, 2019
Follow @BetNHL
Thank you to the Winnipeg Jets.
A nice underdog win last night with them and despite a good battle by the Knights, it was one where early on it didn't seem in doubt at all. It was also very nice to see that performance from the Jets. With the playoffs looming, I really hope they get their act together and build off this to go into the playoffs nice and strong.
Good to see Laine getting going again and I hope the drought is over with.
Flames got a tight 2-1 win against the Ducks. I said it'd have to be -1.5 so avoided that one and that was the right call. Jackets was a similar one. The Avs/Hawks game would have went over 7 due to the empty netter but I'm glad we didn't take the over there – the first half of that game would have made my blood pressure rise to ridiculous levels.
Props to the Wild for getting the win over the Wings to make it two in a row.
It's Saturday, February 23rd and we've got hockey all day long. Love it.
Capitals vs Sabres Betting Tips:
I'm really not a big fan of the Capitals at the moment. They're struggling to go on that late season run that they usually go on and we've seen quite a few losses or tight victories.
Sabres have been struggling lately and come into this with quite a few losses in a row. They kept it tight enough against Tampa but their playoff hopes are diminishing.
While you'd expect a big performance from them they never really showed much in games against the Devils and Rangers. Those were big games that they should have been winning and it's hard to put any confidence in them.
Capitals have made some moves this week which makes me think they're gearing up for that run.
Been going back and forth on this one Initially it wasn't going to be a play at all but the more I look at it the more I like the Caps. If they are going on a run then we won't get a nice price on them like this for awhile. And if they're not – welp; won't be the first time they've disappointed me.
0.5u on Capitals incl OT/SO
Canada: 1.80 Odds at Bet365.
USA: -125 Odds at BetOnline..
Everyone Else: 1.80 Odds at Bet365.
(Odds correct as of 2019/02/23 11:28:35 AM EST but are subject to change.)
Blues vs Bruins Betting Tips:
I'm good with a bet on the Bruins here. Blues are coming off their first loss to end the streak which is something I expected and they're going up against a very resilent Bruins team. Missing Pastrnak just seems to spur them on and they're always a tough opposition.
Bruins haven't lost in regulation since the all star break and that's freaking insane. Coyle is expected to start too which will be interesting.
I'm tempted to go bigger but there is just enough questions to go with a smaller play.
0.5u on Bruins incl OT/SO
Canada: 2.18 Odds at BetOnline..
USA: +110 Odds at BetOnline..
Everyone Else: 2.18 Odds at BetOnline..
(Odds correct as of 2019/02/23 11:28:35 AM EST but are subject to change.)
Habs vs Leafs Betting Tips:
You know how it is with these games – throw the form book out the window. Start with the "Over" and then see if there is enough reasons not to bet it.
Habs had that brutal road trip run but I think that just makes this game more important for them and they'll be up for it as they want to put their road game miseries behind them fast. Last thing you want is to go on the road with no confidence. They've lost their last 4 games on the road but the short trip to Toronto is not that bad.
Habs have a lot of players with the ability to score. Leafs are getting the chances but just can't get them going in but I think in this game they will.
In saying that we don't throw the form book out entirely and there is enough questions going into this game. If it was a 6.5 line I'd skip it but I'm good with 0.5u on Over 6 incl OT/SO.
Canada: 1.83 Odds at BetOnline..
USA: -125 Odds at BetOnline..
Everyone Else: 1.83 Odds at BetOnline..
(Odds correct as of 2019/02/23 11:28:35 AM EST but are subject to change.)
OHL / WHL / AHL / KHL / Czech Extraliga Betting Tips:
(All below systems are based mainly on mathematics and statistics with very little human input and are deemed experimental. )
KHL Betting Tips We wrap up the KHL regular season with a 10-9 record, +0.10u. Not great but hey better than a loss. I can't seem to see any KHL futures anywhere to predict the playoffs but I'll keep an eye out.
OHL Betting Tips (18-14, +0.89u): 0.5u on Windsor Spitfires in reg 1.98.
AHL Betting Tips (17-18, -1.46u): 0.5u on Bakersfield Condors in reg 2.05.
Where To Bet the Non-NHL Leagues:
Canadians: Bodog and 888 Sports.
Americans: Bovada.
Everyone Else: 888 Sports.I
Follow @BetNHL
BetNHL.ca » Tonights Tips » February 23rd, 2019 NHL Betting Tips