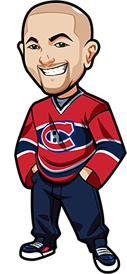 Written by Graeme on Sunday, February 23rd, 2020
Follow @BetNHL
Well I think it's safe to say I will not be betting on games involving the Toronto Maple Leafs again this season.
This was a team that was coming off possibly their best performance of the season. A game against the Penguins where people were actually saying "I'm going to keep that game on my PVR forever".
The players and coaches seemed aware of it too. That was another reason I backed them yesterday. Guys like Muzzin were saying it's the level of play they need every night. Matthews talking about building the Championship culture of the Pens and Caps and carrying over the team effort.
On a rest day. Against a team who just lost a game the previous night then had to travel to Toronto to play on a back to back.
Against a team who had both goalies injured, and had to put in a FREAKING ZAMBONI DRIVER as the goalie.
And they lost. Deservedly too.
I mentioned on Friday how a large part of our losses this month is due to teams not putting in the effort. Well I think we've hit the absolute rock bottom in terms of lack of effort. There's no way to go here but up.
I am absolutely blown away.
I said in the comments on Friday that I received sooo many messages and whatsapps from my Leafs fans friends after that Penguins game, and how nauseating it was. It was like Bettman should have just handed them the cup after that game.
I couldn't even shit on them after last nights game. I simply messaged every one to say I'm not going to laugh at them as I just feel sorry for them.
It's funny too. When I was writing about how the primary reason for our losing month is due to lack of effort from teams I wasn't even sure about posting it. I didn't want it to come off like I was making excuses. However I went back and looked at everything over the past few weeks and I felt it was accurate. If I was on the fence about it at all – I'm not after last night.
Absolutely abysmal effort from the Leafs, and I cannot believe that happened. If they got kicked out of the NHL tomorrow I would applaud that decision. None of those players on the back of that performance belong in the NHL.
I won't be touching Leafs games again for the rest of the season. Much like the Preds, if Scott wants to back something involving them he can go for it. He was able to correctly call a couple of Leafs wins earlier in the month. However I am done with the Leafs.
Unreal. As a Habs fan, I'm meant to root against the Leafs. However I never grew up in Canada and I generally will cheer on all Canadian teams (well except the Canucks). I do find Leafs fans overbearing more than any others but I still root for them such as in that Leafs-Capitals series.
However after last nights performance I will be actively rooting against the Leafs now. Not just because of losing the bet but to be making all the money and have all that talent and to be playing like that?
F the Leafs.
Jets vs Sabres Betting Tips:
Buffalo have very little chance of making the playoffs. However they are still playing like they have a chance. They had that tough loss to the Senators but then bounced back strong against the Penguins. Now they come home where they have had some good performances lately. I mean they were able to beat the Leafs while fielding an actual goalie as opposed to a zamboni driver. That's impressive stuff.
A FREAKING ZAMBONI DRIVER.
Sorry. That one is going to stick with me.
Looking back Buffalo have been putting in the effort since that 6-1 thrashing by the Avs. I've just got to hope they keep it going. For the Jets every game is crucial. They're slightly above a 50% chance of making the playoffs now and can't make mistakes. Their offense has mostly been bringing it.
The last couple of games between these two have been quite quiet in terms of goals. They haven't played againts each other this season though.
I generally like to back an over when it's two teams who are fighting hard for a win. The Jets their reasons are obvious. The Sabres…..I don't know if they're just trying to put themselves in the shop window or what. However they're playing as if their playoff lives are on the line as opposed to life support so good for them.
Their xG rate is at the highest point all season long with an incredible upswing the last 4 games. Jets and Sabres xGA is high.
This should be a high scoring game featuring two teams who desperately need the win. However in saying that we'll just go small because not sure if I have mentioned it but I have had a slight issue with teams not showing up lately.
Actually both these teams we've had losing bets involving that lately. When we backed the Rangers against the Sabres and the Rangers didn't show up, and when we took the Jets to beat the Sharks and the Jets thought going 22 minutes without a shot on net was acceptable hockey.
So that's a fun little reminder going into this one. I also took the Pens yesterday and one reason was a question as to whether the Sabres would show up or not (although even if they did I thought the Pens would take them). They showed up then so they bloody better show up today.
0.5u on Over 6 goals incl OT/SO
Canada: 1.88 Odds at BetOnline..
USA: -113 Odds at BetOnline..
Everyone Else: 1.88 Odds at BetOnline..
(Odds correct as of 2020/02/23 10:43:28 AM EST but are subject to change.)
[poll id="110″]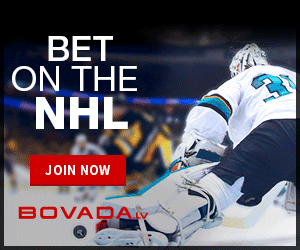 Follow @BetNHL
BetNHL.ca » Tonights Tips »