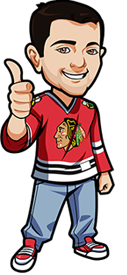 Written by Scott on Sunday, February 24th, 2013
Follow @BetNHL
What a great night of Hockey that was and also a Great night of betting as we went 2-0-1. The Lightning Stomped the Hurricanes, the injury depleted Senators scored with 24 seconds left to win at home against the hated rival the Maple Leafs 3-2 and my Habs continue to have the Rangers figured out winning 3-0, ata boy Price.
The Sharks lost 3-1 to Dallas and they continue to fall. They have only won once in the month of February. Not sure what has happened to this once dominant team but the lack of goal scoring is killing them. In their 10 games so far this month they have only scored 12 times, ouch.
And also of note Alex Ovechkin scored a hat trick so welcome back Ovie!
A solid day of hockey is on today with a few games worth mentioning: The record breaking Blackhawks welcome the Blue Jackets into town, the Lightning are at the Penguins and the Canucks take on the Red Wings. All in all an awesome selection of games.
Now for the reason you are here, the Tips For Sunday February 24th
Canucks vs Red Wings Betting Tips: Red Wings To Win
In what promises to be a great game the Red Wings play host to the Canucks. While Detroit is missing a few key pieces due to injury, they still have Zetterberg and Datsyuk so they will be fine. And the are at home and as always the Wings play better at The Joe.
The Red Wings should take the momentum gained from yesterdays 4-0 win over Nashville and continue to fly high. Best odds I could find for a Red Wings victory were +115 at 888 Sports. So the Red Wings are at home and are the underdogs?? Perfect I'll take the chances on this anytime they pop up
Lightning vs Penguins Betting Tips: A Goal WILL Be scored before 9:30
Two of the best offensive teams face off in this game and there will be goals. Hopefully Malkin is ok, but if he has to miss this game I still believe this will be a high scoring game, with goals coming early.
Even without Malkin this game features: Crosby, Stamkos, Neal, St. Louis and many more stars
I personally love this betting option as its a great way to really get into a game from the very beginning. Bet365 (Americans: We recommend http://www.bovada.lv Offers this awesome bet along with many others. And as with all 50/50 chance bets the +110

These teams are tied for points so it should be a close one. Both also played yesterday. But I think that with teams being so close in both skill and season points you almost have to take a chance on the Hurricanes over at Titan Bet and the very favorable +110 betting odds they are currently offering.
But as always, make sure you are getting the best betting odds available. We save you the work of going through all the Sportsbooks looking by having them in one convenient place which is Right Here you, My Friends, are welcome 🙂
Follow @BetNHL
BetNHL.ca » Tonights Tips »