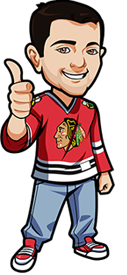 Written by Scott on Monday, February 24th, 2020
Follow @BetNHL
There was 8 games yesterday.
The Capitals beat the Penguins 5-3 snapping their 4 game losing skid. With the win they moved past the Penguins into 1st place in the Metro. Now that Ovechkin has gotten his 700th career goal I expect the Caps to play better as a team and go on a run. It seemed like the whole team was playing like shit when he was stuck at 698 – 699 but with that out of the way they can get back to playing like they should.
We had a half unit tip on over 6 goals in the Jets vs Sabres game. It got off to a decent start when both teams scored in the 1st period but the goals dried up from there. The Sabres added another in the 3rd and it was Buffalo winning 2-1.
The Isles handed the Sharks their 4th straight loss when they won 4-1. The Blues won their 4th straight when they beat the Wild 4-1.
The Flames started their 5 game road trip with a win against the Red Wings. This is a crucial trip for the Flames as they are in the top wild card spot but have only a 1 point edge on the Jets who are in 9th place.
Well today is the trade deadline. I hope there are plenty of moves as it always makes things exciting.
So far the Oilers added Mike Green for Kyle Brodziak and a 4th, the Caps added Kovalchuk for a 3rd, the Jets got Eakin for a 4th and the Bruins picked up Kase for Backes and Andersson. There were other moves but these are the most recent.
I'm not sure how many big moves will be made but I hope there is a bunch. It makes things much more interesting moving forward. The Caps, as I mentioned above, finally have Ovechkin getting his 700th and added Brandon Dillion and now Kovalchuk. They seem ready to take another stab at the postseason and have all of the pieces to do just that.
Only one game today. The Senators vs the Blue Jackets. The Jackets are heavily favored here but the Jackets have lost their last 8 games. I'll avoid a tip for this game.
[poll id="111″]
Follow @BetNHL
BetNHL.ca » Tonights Tips »