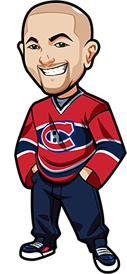 Written by Graeme on Friday, February 24th, 2023
Follow @BetNHL
A 3-0 night yesterday with the NHL Tips.
We had the Sabres vs Lightning to go over 7. That was a thrilling 11 goal game, with Buffalo winning in OT.
We had the Minnesota Wild to win in regulation. They took the lead early, and held onto their 2-0 1st period lead for the rest of the game. Fleury pulled off a 30 save shutout in that one.
Finally we had the Preds to win incl OT. We hate betting them but figured they had to beat the Sharks in a crucial game, and they duly delivered with a big 6-2 victory.
Oilers crushed the Pens in a big one.
A heads up for futures bettors; Leafs fans have informed me that they are winning the cup. This is due to the O'Reilly trade, and then the complete dismantling of the Buffalo Sabres. Just…just pretend that Blackhawks game never happened. And if they don't win? Well it's all the refs fault.
Let's look at Fridays action:
Hurricanes vs Senators:
The Hurricanes come in on a 4 game winning streak. Ottawa are stumbling about, and just lost to the Bruins 3-1.
We haven't seen these two teams play yet this season. Both offenses are generally overperofmring. Sens goaltending has helped them out looking at their defensive metrics. Talbot is back tonight which is interesting as without him they've actually been doing well.
The question is whether the Canes can cover the handicap or not really. It's marginal. THe Canes aren't big at scoring against an empty net which is always something to consider. The Sens have generally been tight against teams but the Canes are a big step up in opposition. And while the Canes offense is overperforming, it's not by a large margin. Still an xGF/60 of 3.75.
I think the Canes offense will just be too strong for the Sens here.
Hurricanes -1.5
Ontario: 2.00 Odds at 888 Sports.
Canada: 2.00 Odds at 888 Sports.
USA: +100 Odds at Bovada
Everyone Else: 2.00 Odds at 888 Sports.
(Odds correct as of 2023/02/24 8:37:24 AM EST but are subject to change.)
Flyers vs Canadiens:
By the metrics, I don't think Philly should be such strong favourites. They struggle to score. Problem is the Habs on the defensive side of things. Leaking 3.56 goals on average last 10, and that is right on point.
Just don't know how this will go. Whether the Flyers are able to find the net against this brutal D, or whether they continue to struggle to score. Habs is a bit tainted somewhat due to the blowout losses to the Hurricanes and the 2023 Stanley Cup champs. Flyers at home though their performances have been decent last bit.
I'll pass.
Panthers vs Sabres:
Line is 7 on this one with a lot of goals expected.Buffalo on a B2B after that Tampa game. That really hasn't stopped their offense though on 2nd legs. Let's see if the metrics agree. Panthers have a 71.57 CF/60 over the last 10 which is very high. Their offense is actually underperforming if you can believe it.
A lot of metrics point to it, but the SCGF/SCGA ones are concering me. Only the Sabres are over 3 in 1 of the 4 categories, which is 3.36 in SCGA/60. I'll pass.
Leafs vs Wild:
Leafs coming in off that good Sabres win. Wild on a B2B but that solid 2-0 win over the Jackets. Gustvasson in net tonight but he has been very solid.
Leafs offense scoring pretty much on point. So it's a case of how do they perform via other stingy defenses. Not a ton of data on that one honestly. Other than Boston, they haven't played too many top defensive teams in the last little while. Running the data back to Jan 1 and looking we can include the Rangers in that, where they only scored 2 in regulation. And the Kraken, where they only scored 1.
Honestly? Gut says that after that Sabres game, O'Reilly flying etc – they do the job here. But their performances against similar D has me backing away from them. Betting them in regulation is probably fine though.
Islanders vs LA Kings:
Islanders riding a two game winning streak. Honestly the metrics kind of lean slightly more to that over 5.5 play. Both teams scoring well (Kings drastically overperforming). Both have poor defenses.
This one looks good for goals. Only hope is that LA keep performing the way they are. They're on the road but they have been on the road a lot lately and banging in the goals so hopefully not a concern. Capitalizing nicely on HDGF which is good to see.
over 5.5 goals incl OT/SO
Ontario: 1.83 Odds at Sports Interaction (SIA) - Non-Ontario bet $10 get $200
Canada: 1.83 Odds at Sports Interaction (SIA) - Non-Ontario bet $10 get $200
USA: -118 Odds at BetOnline.
Everyone Else: 1.83 Odds at 888 Sports.
(Odds correct as of 2023/02/24 8:37:24 AM EST but are subject to change.)
Jets vs Avalanche:
Nothing for this one. Books have it as a flip. I'd agree on that. This Jets offense is underperforming a lot, and they have to get better. Looking at the Avs defensive metrics – eh, this could be the game.
Follow @BetNHL
BetNHL.ca » Tonights Tips »