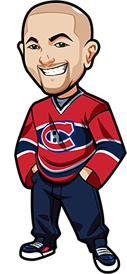 Written by Graeme on Monday, February 25th, 2013
Follow @BetNHL
A 3-0 betting night yesterday for us – a great night for the NHL Betting Tips. Everything went well – the Penguins scored with just 1 minute on the clock, Detroit made an absolute laughing stock of the Canucks, and Carolina scored 4 unanswered goals in an impressive comeback against the Islanders.
Of course I have Luongo in my fantasy hockey team so I wasn't too happy with that performance. Ugh.
Some great hockey yesterday though. The Blackhawks win was very impressive – I really can't see past them for Stanley Cup Winners at this point. And the Penguins show that there is life after Malkin – a nice reassuring victory with the absence of Geno.
We've got only 5 games on the board for February 25th, 2013 but man – there are some GREAT games. Leafs vs Flyers is going to be a really interesting one. Habs visit Ottawa in a tricky game and the Oilers won't go down easy against the Blackhawks. I'm looking forward to some great hockey tonight.
Let's get on with the February 25th, 2013 NHL Betting Tips:
Leafs vs Flyers Betting Tips: Leafs To Win
The Philadelphia Flyers are an unpredictable team at the moment. Just look at the game against the Jets – they were dominated for the opening 10 minutes and then looked like a whole different team after that. The Leafs are coming off the back of the defeat against Ottawa, but the Senators are a really tough team.
Toronto have been very solid this season, and have did a great job at bouncing back after a loss. Van Riemsdyk has been on fire lately and with The Leafs +125 at Pinnacle, it's too good to ignore.
Leafs vs Flyers Betting Tips: Over 5.5
I'm always a fan of hot streaks and following those, and that's what we've got when it comes to the Leafs vs Flyers. Both their main forwards are on hot streaks right now, with Voracek looking particularly impressive. The Leafs don't usually concede too many goals – but the Flyers always love to open up a game. I think this one has a good chance of going over the 5.5 goals, and again we can bet this at Pinnacle with -113 odds.
Blackhawks vs Oilers: Over 5.5 Goals
We're getting a nice price here of +135 at Pinnacle for the over, which I am loving. These two teams always seem to matchup well when it comes to goals.
The Blackhawks of course are killing everyone at the moment, and it wouldn't surprise me if they managed to get the over all by themselves!
This should be a nice open game offensively, and with a price like +135 it's hard to ignore. I think the true line for the over 5.5 on the Blackhawks vs Oilers should be about +105 at the most – so we're getting a 30 cent value here which you just have to take.
The line seems to be lower elsewhere – so be sure to open an account at Pinnacle Sportsbook as their odds for all three betting tips seem to be better than other books.
Follow @BetNHL
BetNHL.ca » Tonights Tips »