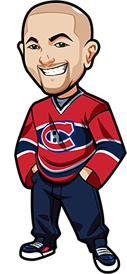 Written by Graeme on Saturday, February 25th, 2023
Follow @BetNHL
1-1 last night.
The Hurricanes covered the handicap with ease, and absolutely battered the Senators.
I was concerned about the Kings goalscoring but felt they would do the job. They did, alas the Islanders let us down. Even with a long empty net period, neither team could muster a goal to put it over. Moneypuck had that at 1.9 to 1.39 xG for the Islanders, so a deserved loss for us.
Leafs offense struggled as the metrics suggested against the Wild. Something to bear in mind for future Leafs games is to be cautious depending on the opponents defensive metrics.
It's Saturday, we've got a big slate. Let's get to it.
Blue Jackets vs Oilers:
Jackets haven't been playing badly at all lately. Oilers offense firing on all cylinders. With the way the Jackets are playing, I don't feel comfortable backing that Oilers -1.5. Based on the metrics I'd say it is very likely. I'd probably price it at exactly 2.00 which is what the odds are set at so no bet.
Blues vs Penguins:
Both teams just with terrible results coming into this. Thing is the Blues are performing as expected, while the Penguins are underperforming. I could see Pens righting the ship here, but the bookies do too at 1.64. No bet.
Capitals vs Rangers:
Caps a disaster at the moment but the Rangers are now coming in on a losing streak, and scarily only mustered up one goal against the Wings and Jets. What is going on there? Even more concerning is despite their results, the Caps corsi over the last 10 is better. And with Ovi back? Yeah this one I'm not touching.
Hurricanes vs Ducks:
This is right up there as the lowest odds I've ever seen a team in the NHL. Would have to be Canes -1.5. No thanks. This does seem like a 6-2 type of game to the Canes.
Canucks vs Bruins:
Would have to be Bruins -1.5 and don't love them here. Canucks offense performing very well. This game has a possibility of going over but it's tricky with the Bruins GA & SCGA/60.
Canadiens vs Senators:
The Habs come in off two big road wins. Their offense performed well. Now hosting the Ottawa senators who they have played twice recently with the Habs losing 5-4 and 5-0.
Sens offense has went to sleep last two games but I mean it was the Canes and Bruins. Hopefully they can shake that off.
Most of the metrics point to this being an over sorta game. A few slight concerns like Habs xGF, and the Sens SCGA/60. But these are always big games and the Habs will fancy their chances and their offense should be going for it right from the start.
Over 6.5 incl OT/SO
Ontario: 1.88 Odds at Sports Interaction (SIA) - Non-Ontario bet $10 get $200
Canada: 1.95 Odds at BetOnline.
USA: -105 Odds at BetOnline.
Everyone Else: 1.95 Odds at BetOnline.
(Odds correct as of 2023/02/25 9:17:30 AM EST but are subject to change.)
Devils vs Flyers:
If backing the Devils, it would have to be -1.5 here. It's borderline. Their current performances don't give you a ton of confidence. They're conceding goals too. Been outscoring Philly last 10, and their xGF is right in line with goals scored. But so is their GA. Good thing is Phillys offense isn't really that great.
Very, very close to Devils -1.5 here. But it could come down to an empty netter and at 1.83 odds, that's -EV as looking at empty net metrics I'd say it's about 50/50 Devils score.
Red Wings vs Lightning:
Detrot coming in performing very well. Lot of great performances since the all star break. Tampa – kind of mixed. By the advanced metrics, this one doesn't even look like a contest though. Red Wings offense drastically overperforming. However Tampa with their defense metrics isn't a bad matchup for them and so that's a concern.
Red Wings matched up well with Tampa this season too. Yeah no bet but I am curious about this game. I feel like the metrics are pointing to a solid Tampa win in regulation. I'm just concerned about the Tampa defense.
Avalanche vs Flames:
This one looks like it has overs possibilities.
Both offenses scoring a lot, and both xGFs around the 3.5 range. Flames conceding more than they should but both have SCGF/60 at about 3 as well. Flames corsi for is ridiculous.
Yeah like this one to be a offensive game. They played January 18th and the Avs won 4-1. That's one thing to always remember about Calgary – their offense can go to sleep at a moments notice it seems. But I think they can produce here.
Over 6 incl OT/SO
Ontario: 1.83 Odds at Bet365 (Americans: We recommend http://www.bovada.lv
Canada: 1.91 Odds at BetOnline.
USA: -110 Odds at BetOnline.
Everyone Else: 1.91 Odds at BetOnline.
(Odds correct as of 2023/02/25 9:17:30 AM EST but are subject to change.)
Sharks vs Blackhawks:
I was hoping the metrics would lead to a sneaky underdog Blackhawks bet, but that is not the case unfortunately.
Knights vs Stars:
One of those where I look at the results and just don't even have an inkling as to who will win here. Looking at the metrics….Stars offense drastically underperformign. Not sure if this is the team to do it against though as the Knights have fairly decent defensive metrics. But I am concerned about their current goaltending situation. I Guess looking at that, it could end up being a big wake-up game for Dallas.
Bah. I do like the Knights here but that's just too much of a concern. Dallas are pretty good slump busters too. No bet.
Follow @BetNHL
BetNHL.ca » Tonights Tips »