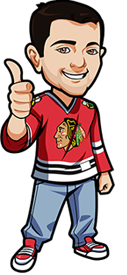 Written by Scott on Monday, February 25th, 2013
Follow @BetNHL
A fantastic night of games and as always a great night of betting as we went 2-1 with our only lose being the Hawks Oilers game hitting 5 goals we needed over 5.5.
A couple things I can't understand: The first being the Hawks and their streak. Its starting to become ridiculous and good for them and their fans. They put up with a bunch of terrible Hawks teams over the years so it's nice to see them reward their fans. The Second being the Ottawa Senators. How the HELL do they continue to win when most of their best players are out with injuries? I have NO idea but WOW!
A great Tuesday of Hockey for us tonight with not 1 not 2 but 9 games for us to enjoy! And a bunch of the leagues superstars take to the ice tonight so it should make for some amazing action.
Before we get into tonights tips, I wanted to let you know about an awesome deal we set up with World Bet Exchange. World Bet Exchange is a Global Sportsbook where you can also get to play the bookie – so rather than place bets, you get to TAKE bets! It can be a little confusing to work out but once you figure it out it's really fun.However the great thing? You can try it with £25 Free. I've managed to set up a deal with WBX so all BetNHL visitors can get £25 Free to try out their sportsbook. They have a lot of great odds for hockey, and are worth checking out. Click here and follow the instructions for £25 Free.
Now on with the tips for Tuesday February 26th
Grand Salami: 46.5 OVER
I am very confident in this bet as the trend this year has been for high scoring games across the board. As I already mentioned, tonight features a bunch of players and teams who can score and do so often. And to show you why I am confident in this bet let me tell you a few names that will be playing tonight: Alex Ovechkin, Steve Stamkos, Sidney Crosby, Patrick Marleau, The Sedins, Vanek … The list goes on and on
So if I were you I would head over to the Grandfather of all Sportbooks, Bodog and be sure to bet Over 46.5 on the Grand Salami and sit back and watch the scoreboards continue to climb all night.
Penguins vs Panthers: Penguins To Win
With the news coming that Malkin was placed on the injured reserve nobody on the planet owes Malkin more than Crosby. Remember during the last 2 years each and every time Crosby went down, Malkin was there to put the team on is back and carry them. Well it's Sidneys time to return the favor.
And with this bet I'm also suggesting you go to World Bet Exchange and Bet the Penguins To Win . Don't worry it sounds harder than it is and after a minute you'll understand and love it as much as I do. Plus WBX gives all BetNHL visitors a free £25 so free money and an amazing new betting concept, it's win win.
Hurricanes vs Capitals: Hurricanes To Win +138
If you haven't heard, the Caps are not doing well so far this year, while the Hurricanes are thriving under Kirk Muller(Muller was a great player, is a great coach and we happen to live in the same town and after sharing a few pints with him over the years, hes a great guy also).
And with 888 Sports offering a Canes win at +138 this is a can't miss tip
Follow @BetNHL
BetNHL.ca » Tonights Tips »