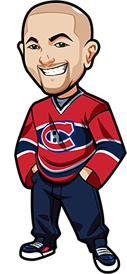 Written by Graeme on Thursday, February 26th, 2015
Follow @BetNHL
It was another performance worthy of Hulk Hogan by the Calgary Flames last night. Down 1-0, they manage to come back and win 3-1 putting 3 goals past Schneider – which is impressive considering the form he has been in as of late.
It was nice to FINALLY get a good game between the Penguins and the Capitals. So many of their games you get hyped for, and then they end up being a blowout and very disappointing. That was a fun game although the Capitals were playing catch up the entire time.
Busy night of hockey tonight with 9 games on the board. After their excellent victory last night, there's no rest for the wicked as the Senators have to go to LA to play the Kings in the late game. The stuttering Blackhawks host the Panthers who refuse to die this season. Tallon just did an interview saying the next 3 games are huge for them as they have to decide based on the next 3 what to do when it comes to the trade deadline.
Also have to be curious about the Flames – they're in 8th at the moment. But look at that schedule – 5 road games, Islanders, Flyers, Bruins, Wings, Senators. Flames are that team for me this season –
Canucks vs Sabres Betting Tips:
Going to go with Canucks -1.5 here.
Canucks most likely have Lack in net, who has had two excellent games against the Islanders and Bruins. He's going into this one confident and riding a hot streak, against a weak Sabres offense who are already weaker. Their top two lines are decimated, and it's hard to see where the goals are coming from.
Canucks have been very offensive on this road trip, with 5 goals against the Rangers and 4 against the Islanders. It's just hard to see the Sabres scoring. Of course it's hockey and they could surprise us – but one of those bets it's best not to overthink. I just can't argue in favour of the Sabres scoring multiple goals.
2.30 odds at Bovada for Americans and http://www.Bet365.com for everyone else..
Panthers vs Blackhawks Betting Tips:
How do you NOT bet the Florida Panthers here?
Yes the Blackhawks have won the last 6 exchanges between the teams, including the game on Tuesday. But they are stuttering hard at the moment. Panthers battled tough on Tuesday and forced the shootout. Hawks are without Kane but that's not that big a factor considering he didn't play on Tuesday.
Here's the deal: Tuesdays game was a very even game. In that game, the Panthers were on the road. Here they are at home, and they're pushing for the playoffs and that wild card spot big time. And they're 2.10 odds?
Have to go with the Panthers there. Great place to use the free bet at Bovada for Americans and http://www.Bet365.com for everyone else.
Senators vs Kings Betting Tips:
Have to bet another handicap here – Kings are on a hot streak, and had the break on Wednesday. They're going up against the Sens who played last night. Kings match up well with the Senators. Have to ride the Kings tonight. The only question is the handicap and what to bet. Kings -1.5 is 2.15 and Kings -2.5 is 3.30. We'll probably end up betting both and split the units. Kings offense is petering off slightly but it's hard to see Ottawa having much in the tank after last night. Safe bet to make though is the Kings -1.5.
You can bet alternate handicaps such as Kings -2.5 at http://www.5Dimes.eu for Americans(Need to register to see lines) and and http://www.Bet365.com for everyone else..
Can't wait for the Sens to win 1-0.
Follow @BetNHL
BetNHL.ca » Tonights Tips »