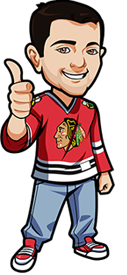 Written by Scott on Wednesday, February 26th, 2020
Follow @BetNHL
Well that sucked. Had two tips yesterday and they both were losses.
Had the Caps to win in regulation against the Jets but this one needed extra time and the Caps won 4-3 in a shootout. This looked like it was going to be an easy win for the Caps. Ovechkin scored early and the Caps jumped out to a 3-0 lead. But the Jets scored 3 of their own to tie it up and force overtime. Overtime wasn't enough and it needed a shootout where Ovechkin won it for Washington.
The other tip was the Oilers to win in regulation against the Ducks but it was the Ducks winning 4-3 in OT. Good news for Oilers fans though as Ennis and Athanasiou both scored in their debuts.
The Leafs won against the Lightning 4-3. Was a big win for the Leafs here and they beat an actually NHL goalie. The Lightning were going to start Carl who works at Arby's but Carl couldn't get the night off so they went with Vasilevskiy.
The Rangers beat the Isles 4-3 in overtime and Pageau had a big debut for the Isles in the loss. He scored a goal and picked up 17 penalty minutes when he stuck up for a teammate who got layed out.
A slower night for us with only 3 games. I couldn't come up with any tips. Below are some thoughts on each game.
The Sabres vs Avalanche game is heavily favored for the Avs. Both teams did some tinkering with their rosters at the deadline. The Sabres added Simmonds and Kahun and the Avs added Namestnikov and Hutchinson. I would say I'd go with Avs but the Sabres still have hope for the postseason so who knows which version of them is going to show up.
Oilers vs Knights is a crucial game. The Knights are in 1st in the Pacific and the Oilers are in 3rd. Only 2 points separates these teams. This one is to tricky to call in my opinion.
The final game of the night is the Penguins vs the Kings. The Pens are the obvious favorites here but they added Patrick Marleau, Conor Sheary and Evan Rodrigues so with all the new faces there will be some speed bumps for them until they get more familiar with each other.
Be sure to check and post in the comments. Our readers are all smart hockey people and maybe they can come up with something you like.
Follow @BetNHL
BetNHL.ca » Tonights Tips »