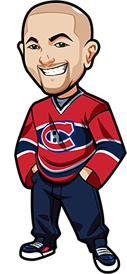 Written by Graeme on Saturday, February 26th, 2022
Follow @BetNHL
It was a tight one yesterday but we got the win with the St. Louis Blues covering the handicap, with an empty net goal close to the death. Honestly did not think the Sabres were ever going to pull their goalie.
That's why empty net stats can be so important and something I factor in to whether I bet a handicap. Specific scenarios like that. Blues have scored 50% of the time now when against an empty net, while the Sabres have now conceded with an empty net 13 in 27. It's data well worth looking at when it comes to backing a handicap.
I was really hoping the Jets would win last night. I was already writing the tips in my head after that 1st period – THAT is why I avoid the Winnipeg Jets. But hey imagine I said to you I'll give the Jets a 3 goal lead, only 40 minutes left on the clock, and give you Jets +2.5? Who wouldn't take that? Then they just get dominated like that.
It was a great evening of hockey action. I LOVE random games like Devils vs Blackhawks where you go from half paying attention to it to just glued to it. Great fun.
Coyotes got the win and I ended up following my gut and backing them in regulation, so that was delightful. I just wish there was some form of data to back it up – I always need at least something to advise here but there really wasn't much beyond a gut feeling.
Let's get on with the betting tips for Saturday, February 26th:
Panthers vs Oilers:
My mathematical system says this one could be an 8 or 9 goal affair – so seeing an over 7 line isn't a surprise. Quite a rarity to see that line. Wonder if both teams will bring the juice for an early game. Could be quite the banger.
I expect the Panthers to win here. Oilers have been unable to stop a top 10 team from beating them under the new coach. The way both teams have been so erratic I am very hesitant to back anything here. As on their day, the Oilers could beat them here and with the way the Panthers have been lately – yeah, not touching.
Flyers vs Capitals:
Not touching this one. Capitals bet the Flyers just over a week ago. I've seen too many games like this so close together where the teams play again, and the result is flip flopped. If anything I'd back the Flyers here.
Problem is there are so many people out injured right now for the Flyers it is hard to advise them. Capitals also have Oshie and Schultz back.
Penguins vs Rangers:
Penguins come in on a brutal run at the moment. They haven't won in regulation at home since before the all star break, when they defeated the Arizona Coyotes on the 25th.
Rangers come in off some very good performances. I'm surprised to see them such big dogs. On the road they are 16-9-2. Penguins are 14-8-5 and struggling a fair bit at home.
The advanced metrics sites do have this one in strong favour of the Penguins.
When I look at the last 10 games for the advanced metrics – well, Rangers have the best record obviously with 7 wins. Their CF% and FF% are remarkably lower. Slight advantage on xGF. Pens only have an 0.963 PDO so that could balance out here.
So yeah here's the deal – sportsbooks think Pens win today. Advanced metric agree with that. Me? I think there's value on that line. I don't believe they should be that big a dog.
Rangers win incl OT/SO if Shesterkin is in net
This one was 2.50 when I did the write-up but I would bet it down to 2.40.
Canada: 2.46 Odds at BetOnline..
USA: +146 Odds at BetOnline..
Everyone Else: 2.46 Odds at BetOnline..
(Odds correct as of 2022/02/26 10:53:42 AM EST but are subject to change.)
Senators vs Canadiens:
I just can't bring myself to back the Montreal Canadiens at the moment. In saying that – this could be a real coinflip of a game and you're getting an insane price on the Habs all things considered.
Sens have been performing well though. Basically one I can't sit here and advise but I do believe there has to be some sort of value in that Habs line. I'll probably throw something on it.
It's a bit different from the Rangers game though. With that one I look at it and feel like the Rangers could get a win. With this one it's more "eh I guess it makes mathematical sense to bet them".
Predators vs Lightning:
Preds PLUS an outdoor game. Two things I never touch. I wonder if those would cancel each other out.
Red Wings vs Leafs:
Red Wings come in with some real great offensive performances these last few games. Lotta goals post all star break specifically. Now they're going up against a team who could tie a wet paper bag across their net and probably concede less goals at the moment.
To their credit, Leafs got that solid win over the Wild. Now they're on the road again. Leafs came here back in January and it was an 11 goal thriller.
I like the idea of goals in this one. Over 6.5 isn't a line that I love – but these two teams really seem to bring out great affairs.
Over 6.5 goals incl OT/SO – great time to sign up at BetOnline. as it is mostly 1.95 elsewhere.
Canada: 2.07 Odds at BetOnline..
USA: +107 Odds at BetOnline..
Everyone Else: 2.07 Odds at BetOnline..
(Odds correct as of 2022/02/26 10:53:42 AM EST but are subject to change.)
Sharks vs Bruins:
Nothing here. I do think Bruins start ticking right now and we see a solid win here from them but the Sharks are an iffy and tough opponent. A lot of forced OT Games by the Sharks lately and Bruins in regulation on the road is not something I can commit to.
Knights vs Avalanche:
Knights come in off that tough loss to the Coyotes last night. Avs come in after that big comeback over the Jets. Avs in regulation is probably the play but I do feel Knights step up after that loss. Plus both teams on a back to back is a bit meh for me.
Flames vs Wild:
Flames are too heavily favoured here for my liking. But the Wild come in with a couple of dreary results too. I'm really curious how Flames respond after that Canucks bizarro game. I wouldn't be surprised if they go to absolute town here and hand out a pounding. That was a weird game though and I'm going to pass on this one.
Kings vs Islanders:
Kings come in on a tear but I mean it's not like it is the best opposition. They did beat Islanders recently. Islanders come in solid enough. Very close game and the odds reflect that. No bet for me. Odds seem right on the money here.
Follow @BetNHL
BetNHL.ca » Tonights Tips »