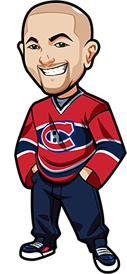 Written by Graeme on Sunday, February 26th, 2023
Follow @BetNHL
1-1 yesterday.
The Habs xGF and Sens SCGA/60 ended up becoming a problem as they were only able to muster up 2 goals. Thankfully, Ottawa lit them up and were able to put it over.
And as I said yesterday: "That's one thing to always remember about Calgary – their offense can go to sleep at a moments notice it seems". Actually to be fair they had a lot of chances. An xG of 4.38 for the Flames so really just bad variance there and great goaltending.
Let's get into Sundays 7:
Sabres vs Capitals:
Buffalo coming in off the win against Florida. Washington finally came to life with a big win over the New York Rangers. Hard to have any sort of confidence in the Caps of course, and I don't feel good about Buffalo at their odds. They concede way too much.
Wild vs Blue Jackets:
Wild hosting the Jackets. Would have to be -1.5. They had that tight 2-0 win over them on the 23rd. That was the first time they have covered the handicap since January 17th. Jackets have been playing well. No bet here.
Jets vs Islanders:
I mean you just can't back the Jets here. But the advanced metrics show they should be doing better, while the Islanders are overperforming and easy to see it flip flopping here. No bet.
Rangers vs Kings:
Rangers not a team you really want to back at the moment unless it's the Glasgow kind (hopefully that ages well). Curious now they are back at home if their fortunes change for the better.
Metrics actually point to this one being high scoring. Both teams scoring over 3.5 and conceding in average of about 3.30. Both taking their chances. Lindgren apparently out as well.
The Rangers offense after a couple of duds woke up yesterday. To be fair their xG the two prior games was still really high.
Think there is enough to go with the over here. Copley is a bit of a concern – when we have backed the Kings this season it's been dependent on him being in net. But I think the Rangers should be able to get past him enough to help put this one over.
Over 6 goals incl OT/SO
Ontario: 1.90 Odds at Bet365 (Americans: We recommend http://www.bovada.lv
Canada: 1.93 Odds at BetOnline.
USA: -107 Odds at BetOnline.
Everyone Else: 1.93 Odds at BetOnline.
(Odds correct as of 2023/02/26 10:46:05 AM EST but are subject to change.)
Penguins vs Lightning:
Penguins not doing well at the moment. Tampa it's really hard to say. The Pens xGF metrics are through the roof. Penguins biggest issues right now are conceding goals. Brutal GA/60, SCGA/60, xGA/60.
So Tampa should light them up and it's whether the Pens can return the favour. They've only managed to score 2 goals in regulation in each of their last 4 ames.
Tampa really aren't a team you can back on the 2nd leg of a B2B.
This is one of those where I do like the over, but I am hunting around for that one extra thing to convince me and it's just not happening.
Coyotes vs Predators:
Game is probably closer than the odds reflect. Preds scoring slightly more but also conceding slightly more. Coyotes goaltending helping them out compared to their xG. Won't surprise me in the least if Arizona win. Especially with Johansen out.
Coyotes did just beat Nashville on the 13th as well on the road.
Basically don't hate a bet on teh Coyotes here but just feels too much of a gamble to actually advise. One I am happy to bet as I feel there is value on them.
Kraken vs Leafs:
Seattle come in on a couple of losing games. Leafs had that tight win over the Wild. Good to see Keefe address their overtime situation.
Kraken are a bit mixed on defensive metrics. Leafs really shouldn't have an issue with them though.
Not really feeling teh Leafs here enough to back them in regulation.
Follow @BetNHL
BetNHL.ca » Tonights Tips »