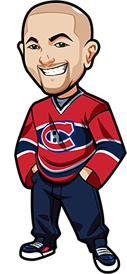 Written by Graeme on Saturday, February 27th, 2021
Follow @BetNHL
Yesterday was a day with three heavy favourites and one of them got upset as the Rangers beat the Bruins in spectacular fashion.
They were playing in front of their fans for the first time and they duly delivered with a massive performance. It was very nice to see. Bruins are a team that look like they are regressing a bit too. I thought they might be able to shake that off after the outdoor game but that's not the case. They have another road trip game tomorrow and it'll be interesting seeing if they can get fired up for that one.
I backed the Kings and alas the Wild shellshocked them in the 1st period and that was it. It was very weird they looked fine to start then when the Wild got that 1st goal they just self combusted.
I don't blame them – that Kaprizov goal was a bloody incredible goal. Those two meet again tonight.
Lot of games today. Lot of them. We've got a whole bunch of possibly fatigued teams with the way schedules are. Should be interesting. Let's get right into them:
There are a few potential plays that I will be thinking about and may post in the comments if we are taking them. Will be debating them throughout the day. They are:
– Jets to win.
– Lightning in regulation.
– Sharks to win.
Sabres vs Flyers:
Sabres are not a team I really have much faith in backing. Philadelphia man they've had players out but keep persevering. Battling damn hard. They only have 3 regulation losses this year. 2 were to the Bruins, 1 was Buffalo.
Philly got Giroux back and that is a big boost for the team. Voracek might be back too.
Ullmark is out for Buffalo. Philly really have to take this one.
Canada: 1.72 Odds at BetOnline..
USA: -138 Odds at BetOnline..
Everyone Else: 1.72 Odds at BetOnline..
(Odds correct as of 2021/02/27 10:44:39 AM EST but are subject to change.)
Oilers vs Leafs:
Leafs kind of stuttering a little bit. Oilers on a roll. I've no idea what to expect from this one. I could see it being a big defensive game like we saw Jan 20th.
Matthews might not be able to play. Leafs are 4 points ahead of the Oilers with a game in hand in the North Division. From reading the press the Oilers players are well aware of that and should hopefully use it as a motivational factor.
I'm good to back OIlers win incl OT/SO if Mike Smith is in net. There's a sentence I thought I'd never type. It's the way Smith is though he can be super streaky like this and when he is hot gotta back him. I feel the price is right.
Canada: 2.03 Odds at BetOnline..
USA: -101 Odds at BetOnline..
Everyone Else: 2.03 Odds at BetOnline..
(Odds correct as of 2021/02/27 10:44:39 AM EST but are subject to change.)
Ducks vs Knights:
Knights are one of those teams I generally feel good about backing. They had a game postponed on Thursday and will be itching to get back out here against a team that shut them out last time they played.
Ducks must have a big confidence issue right now when it comes to leads and protecting them. That sort of thing also gives the opposition confidence.
Good with Knights in Regulation.
Canada: 1.80 Odds at Bet365 (Americans: We recommend http://www.bovada.lv.
USA: -130 Odds at Nitrogen Sports
Bovada.
Everyone Else: 1.80 Odds at Bet365 (Americans: We recommend http://www.bovada.lv.
(Odds correct as of 2021/02/27 10:44:39 AM EST but are subject to change.)
Senators vs Flames:
I expect we will see a better performance from the Flames here. I think it was easy enough to put that last one down to fatigue. In saying that – I'm not betting a team this heavily favoured who just got thumped 6-1. We did see Flames bounce back from a similar result last week but it's not enough to back them at this price.
Devils vs Capitals:
For those wondering – no fans for this one. Devils will have fans on March 2nd when they face the Islanders.
I like the Caps but I just don't have a lot of faith in them right now. Not a team I can back with a lot of confidence at the moment. They just seem a bit all over the place. No bet but I'd prefer to be on Washington.
Predators vs Jackets:
I have a strong feeling the Jackets take this one. Just one of those gut feelings.
It's not like they have really proven themselves over the last couple of weeks though. They're seriously struggling and just got shut out by the Hawks.
While I like backing gut feelings – I also need either the odds to do so, or some statistics or metrics to back it up. I have neither of those.
I think Jackets take it but can't advise.
Panthers vs Hurricanes:
Canes come in off the back of those three losses to Tampa. These two have played once so far this season. Panthers won that one 4-3 in OT.
I'd rank the Hurricanes as the better team overall, but the Panthers are a team showing a lot of fight and who you can never count out. I think they come into this one with momentum.
In saying that – 3rd game in 4 nights for both teams. Fatigue could be an issue. Honestly I could see a big start from the Panthers then them dropping off. 1st period metrics doesn't suggest that would be the case though. Anyway this is an intriguing game but no bet.
Lightning vs Stars:
First meeting of these two this season. Tampa concern me somewhat this year although they changed that a bit with their 3 games over the Canes there. Yeah they can beat up the likes of the Wings and Preds but they had struggled against Panthers, Canes, Jackets prior to that 4 game series.
Dallas just seem like a shit show. Their schedule obviously all over the place.
I strong lean Lightning in reg here but just can't quite bring myself to do so.
Islanders vs Penguins:
Close games between these two this season. Bookies can't seem to figure it out either as they're throwing coinflip odds on it and letting us go for it. I can't see any reason to back either team here.
Wild vs Kings:
Nothing here. Kings odds worse than last night. During the day yesterday I was looking up that game more and was rethinking my betting tip. But following in from last nights game I just don't feel good about Wild in regulation today. Would be a complete 180 that would be too reactionary.
Coyotes vs Avalanche:
No bet here these back to back head to head games are tricky. I still lean Coyotes here purely for value though.
Jets vs Canadiens:
The odds for this one are a bit bizarre. Jets decent underdogs yet their results have been fairly solid lately and they tumped the Habs 6-3.
The Jets put a lot of pressure on the Habs in that one. Price doesn't seem a happy camper at the moment. Habs riding with Allen tonight which is the smart move.
I lean Jets in this one but need to think about it more.
Sharks vs Blues:
Sharks will be without Hertl here. Blues of course have a long injury list although they will be happy that Tarsenko is back practising.
I think there is certainly a fair bit of value in the Sharks line. Probably not enough for me to back it but it's one I will consider throughout the day.
Follow @BetNHL
BetNHL.ca » Tonights Tips »