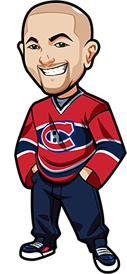 Written by Graeme on Sunday, February 27th, 2022
Follow @BetNHL
Well we go with a very tight win due to an empty netter at the death to…..a not so tight win.
I took the over 6.5 goals in the Leafs vs Red Wings game yesterday and um – I could have went with over 16.5 goals and it would have won.
I don't even know what to say about that one. My god.
I do enjoy that in a 10 goal game, Tavares gets ZERO points. It's scary seeing how fast Campbell is crumbling. Shocking, shocking display by all goaltenders.
It was a 1-1 night overall. We had Rangers 2.46 odds to beat the Penguins. That was a tight one which the Penguins won 1-0. A few weird line changes and decisions by Gallant in that one.
Also a good example of why it is worth betting the best odds which we take the time to list. BetOnline. had it at 2.07 odds so if you bet both bets there, it was a winning night for you. If you bet elsewhere, it could have been a loss as many sportsbooks only had it at 1.95.
Leans seemed to generally come in. Flyers got the win. I just couldn't find enough to back them. There was certainly value in the Habs line and they got the win. Flames handed out the pounding I expected.
A good day of hockey.
Let's see what we got for Sunday. A busy day today then we have a lighter one tomorrow to wrap up the month which is nice. At a quick glance I don't know if I will have anything tomorrow but we'll see.
Hurricanes vs Oilers:
Bit similar to yesterday isn't it. Oilers got the win then. Canes last time we saw them was Friday and they had a solid defensive performance over the Jackets.
Going up against the Oilers who are on a back to back. Canes have been great at home lately. Oilers however have been really good on the road. Oilers may be without RNH.
Smith expected to be in the net for the Oilers. With that, them on a back to back and on the road trip, and just the Canes in general – happy to go with Canes in Regulation here. I've been hesitant on the Canes lately but I think this is a good spot for them.
Canada: 1.78 Odds at Casumo
USA: -130 Odds at Everygame.
Everyone Else: 1.78 Odds at Casumo
(Odds correct as of 2022/02/27 9:09:33 AM EST but are subject to change.)
Stars vs Sabres:
Stars you would have to hope would get a solid win here after some real inconsistent performances. It would have to be -1.5 and I'm not going to back that based on their form coming into this one, and their struggles to really score goals lately.
Blackhawks vs Blues:
Hawks coming in off that thriller against the Devils. Blues come in on the back of some solid results. Hawks really needed that one and they will look to string together back to back wins here.
When the Hawks play like that – a very open game – they can be quite dangerous and you have to wonder if they carry it in here tonight.
They haven't really been a big momentum team this season. These two did play earlier this month with the Blues thumping them 5-1. I've said those recent matches between teams has made me hesitant at times and this is one of them. Just saw it yesterday with the Flyers.
The problem too is you don't know what Hawks are going to show up. If it's the same Hawks that we saw agains the Devils? Boom – easy over. My gut says this one goes over.
Coyotes vs Jets:
Not touching anything involving the Winnipeg Jets. I'd rather put money on Glasgow Celtic winning the Scottish Premiership.
Blue Jackets vs Penguins:
After some good results, Jackets were blanked in Carolina. They have been good at bouncing back on those.
Penguins ended their losing streak yesterday and are on a back to back here.
The bookies have the Jackets as massive dogs here. It's a big divisional game. Really if the Jackets want to make the playoffs they absolutely 100% HAVE to win this game.
Wonder if Laine can pick up a new streak here – it's much needed if they are to make the playoffs.
This is a crucial game for the Jackets. They are rested, and I think it's a good spot to back them here. I like bets in this spot because if the Jackets ARE a playoff team, then they have to step up here. Pens DID beat them back in January 5-2 here so that is of course a concern. I do feel the bookies are overvaluing Pittsburgh here though.
Jackets win incl OT/SO
Canada: 2.95 Odds at Bet365 (Americans: We recommend http://www.bovada.lv.
USA: +185 Odds at Everygame.
Everyone Else: 2.95 Odds at Bet365 (Americans: We recommend http://www.bovada.lv.
Note: I see odds dropping. I would advise betting to as low as 2.75.
(Odds correct as of 2022/02/27 9:09:33 AM EST but are subject to change.)
Rangers vs Canucks:
Much like the Flames yesterday – after that bizarro Canucks/Flames game, I'm fine skipping here. Odds seem about right anyway. Rangers have been generally solid at home.
Ducks vs Islanders:
Nada here. It wouldn't surprise me if the Ducks pull it off but the odds seem right on the money.
Sharks vs Kraken:
Nothing here either except the joy of an early bed time for me. I shall enjoy the highlights with my bowl of all bran flakes in the morning.
Follow @BetNHL
BetNHL.ca » Tonights Tips »