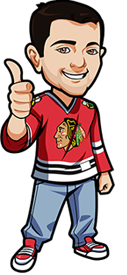 Written by Scott on Thursday, February 28th, 2013
Follow @BetNHL
Great but close betting night. We went 2-1 with the Flyers Caps game staying under 5.5 goals at 5 goals and the Grand Salami stayed under 21.5 coming in at 21….whew that was a close night but a wining one either way!
Well it didn't take long for Simon Gagne to score for his new/old team. His first game back and he scored to help the Flyers to a 4-1 over the Capitals. And it's a wonderful night when you're a Habs fan and they beat their rivals the Maple Leafs 5-2.
During the Flyers Caps game there was a VERY questionable hit by Harry Zolnierczyk on Mathieu Perreault. The hit in question happens around the :50 mark.
Wat do you think? Was it an ok hit or are we witnessing the reincarnation of Ulf Samuelsson
Plenty of games and betting options tonight with 11 games for us to enjoy. The Blackhawks put their incredible streak on the line to face their Central Division rivals the St. Louis Blues. The Binghamton Senators 😉 face off against the Boston Bruins. As we well as the Red Wings And Sharks and more.
And for all the people out there who continue to bet Proline, do yourself a favor and stop immediately.
Read this article: Why You Should Bet Online to see why Online is so much better and more profitable than Proline.
Ok now for the good stuff which is the NHL Betting Tips for Thursday February 28th 2013:
Sabres vs Panthers: Sabres To Win: +106
This game is a battle of teams who are underachieving this year. But on paper and on the ice the Buffalo Sabres are the better team. And when you bet on the Buffalo Sabres to win You get amazing betting odds of +106
So head to 5Dimes and jump on these odds before they change to the level most of the other books have it which is around-105
Lightning vs Rangers: A Goal WILL be scored before 9:30
This is going to be a great game no matter the outcome. These have got to be two of the more exciting teams to watch in the NHL. And with superstar players a plenty on both teams, goals are not going to be hard to come by.
That's why I suggest you go to Bet365 (Americans: We recommend http://www.bovada.lv and bet that A Goal Will Be Scored Before 9:30 Of The First Period the odds for this are at a respectable +101 which isn't a huge payout but still an decent return on such a great betting option. You gotta love Bet365 (Americans: We recommend http://www.bovada.lv and all their amazing betting options!
Maple Leafs vs Islanders: Maple Leafs To Win +120
With the big loss last night to the rival Montreal Canadiens, you know the Toronto Maple Leafs are pissed and will use the Islanders as their punching bag tonight. The Leafs are for real this year and for the first time in a very long time I think they have a decent shot at making the playoffs.
The best odds for a Maple Leafs Win was a very decent +120 at Intertops which is incredible considering it the Islanders who, for lack of a better word, are bad. So head to Intertops and take advantage of those odds before they change.
Follow @BetNHL
BetNHL.ca » Tonights Tips »