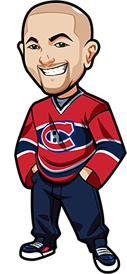 Written by Graeme on Friday, February 28th, 2020
Follow @BetNHL
It was a bit of a nerve-wracking one at times, but we ended up with a winning night with our play on the New York Rangers to continue their run and beat the Canadiens. They were trailing the majority of the game but managed to score 4 goals in the 3rd period.
They're one of the few teams right now who are in the playoff race and actually look like they want to make the playoffs. Most probability sites give them about a 34% chance of making it now and honestly I hope they do. They had the big Chris Kreider decision to make, they performed well enough that it was worth keeping him and now they're on the hunt.
It was an interesting night of hockey. The Bruins had a tough game against the Stars but got the win. The Blackhawks decided "oh we're almost out of playoff contention time to win" and cleaned the clocks of Tampa 5-2. We stayed away from the Canucks due to Bobby Ryan and that proved the right call, as the Sens won 5-2 thanks to a hat trick from Ryan.
Winnipeg got a surprise 3-0 win over Washington. We were lucky in that one as we were completely off on it. Scott liked the Capitals to win in regulation and I liked the over. Props to the Jets who are still hanging in there.
We have a slightly quieter night in the NHL with just 5 games taking place.
I highly doubt the majority of you care about this, but just wanted to give it a quick mention. For about 10 years I've been covering betting on wrestling (WWE, AEW, NJPW etc) over at BetWWE.com and I've just recently started a wrestling betting tips podcast. We do podcasts for all the big shows such as Super ShowDown yesterday, and AEW Revolution this weekend. If it's something you're interested in, feel free to check it out at BetWrestlingPodcast.com where there are also links to iTunes and Spotify. I'll say this – there's a lot less variance betting wrestling compared to blocking the NHL!
Alright tonights hockey.
Avs vs Hurricanes is a game I am very curious about. Carolina need their offense to step up in a big way. They just haven't brought the consistency lately. I think they have what it takes tonight against the Avs. Just seems like one of those games where they band together. But the Avs are crushing it at the moment, the Canes are trying to get that cohesion going and they have the goalie issues.
I REALLY want to back Carolina there or the over. Just can't pull the trigger. Avs are right up there with the Knights as a shot share dominant team. Avs are a damn good team.
[poll id="112″]
$25 risk free bets on player prop, in-game bet and $50 risk free mobile bet. Available for NEW customers only at BetOnline.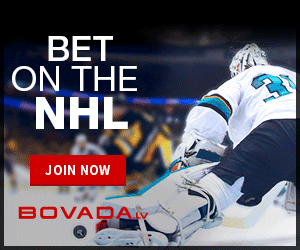 Pens and Knights are big favourites. The other day in the comments we were talking about betting against the public teams etc. That's one spot right there. Not saying to bet against the Pens or anything – but that's a spot where it is well worth looking at it. Penguins are one of the biggest public teams and this is a game where people are blindly betting them based more on name value than anything.
Don't blindly bet the Ducks to "go against the public" or anything, even though the line probably has value. Analyze that game thoroughly and see if it's worth taking the Ducks. As a follow up to the comments the other day, this is the perfect game to look at.
Betting tips wise today – it's an interesting one. There are two games I have mulled over all morning. We've had a crap February, and that plays into the tips obviously. We're only human. It'd be nice to ignore that but it does affect things.
However that's what got me thinking. The two plays I like today – even though there are a lot of factors against them – if we were winning, would I tip them? I believe the answer is yes. Both are primarily gut plays more than anything. There are certainly numerous factors to steer me away from these bets, however that's the case for almost every game in hockey. There are almost no games where I can place a bet with complete 100% confidence. Unless the Leafs are playing against a zamboni driver then of course I'll bet the other side because that shit is a lock.
Jackets vs Wild Betting Tips:
Going with the Jackets if Korpisalo is in net (he is). His first start this year and after he helped them beat the skid against the Sens? Hell yeah. I love that sort of thing. However the problem with the Jackets isn't just goaltending. Actually losing Seth Jones is the biggest factor. Look at their xGA this season: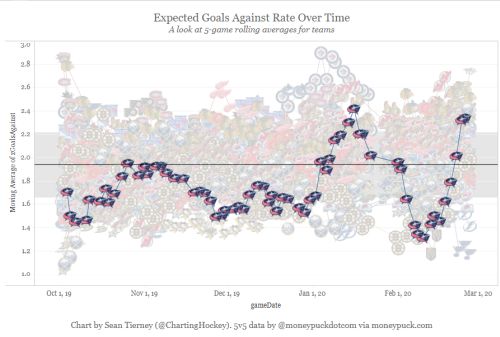 That big spike at the end corresponds with the injury to Seth Jones. That's a concern.
However looking at their xGF we are seeing the offense step up more following that too. A large part of that can be game script but this is a team that is fighting almost every single game. They've had a couple of off games but this is just the boost that they need.
Their playoff hopes have dropped in the last couple of weeks. They went from about a 65% chance to 23%.
Honestly I think this is one of the biggest tests for the Jackets. Korpisalo being back I think the team has to step up. Looking at their games over the last little while they're still giving the effort. This might just be the little thing that turns them around.
They've also had a couple of days off. This team needed that badly. 8 games in 13 days. That should hopefully help.
0.5u on Jackets incl OT/SO if Korpisalo is in net – edit he is confirmed
Canada: 1.83 Odds at Bet365 (Americans: We recommend http://www.bovada.lv.
USA: -121 Odds at BetOnline..
Everyone Else: 1.83 Odds at Bet365 (Americans: We recommend http://www.bovada.lv.
(Odds correct as of 2020/02/28 10:55:06 AM EST but are subject to change.)
Flyers vs Rangers Betting Tips:
This is one where I am backing the over based primarily on both teams desire to win.
The Flyers are looking good for the playoffs. They also really want home ice and to keep performing well at home. They have an incredible 22-5-4 record. Their offense is killing it at the moment. A lot of their victories at home however have relied on a strong offense. They just seem to come to life here.
Interestingly the Flyers aren't THAT much better at home than away when you look at the advanced metrics. The base metrics like goals for etc they stand out more but there's only a slight positive increase home vs away. Everything is pretty much the standard home/away deviation. Flyers are just a damn good team period.
The New York Rangers meanwhile are a team that are just fighting and fighting hard. They had that one game they were asleep at the wheel against Buffalo (still a sore spot for me) but since then have been fantastic.
I'm not concerned about them not showing up anymore. If it happens then it happens. The chances against it are very slim though.
Should be a feisty game featuring two teams seeking the win. I will note that the last 6 games between these two haven't went over 6 which is a slight concern but I've got to think both teams have the desire here.
0.5u on Over 6 Goals incl OT/SO
Canada: 1.87 Odds at 888 Sports.
USA: -114 Odds at BetOnline..
Everyone Else: 1.87 Odds at 888 Sports.
(Odds correct as of 2020/02/28 10:55:06 AM EST but are subject to change.)
Follow @BetNHL
BetNHL.ca » Tonights Tips »