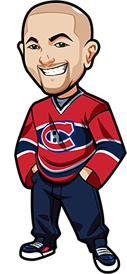 Written by Graeme on Saturday, February 29th, 2020
Follow @BetNHL
A 1-1 night with the NHL Tips yesterday and after the month we've had, I'll take it!
It was quite an interesting night in the NHL. The return of Korpisalo as starter didn't work out well for the Jackets at all as he ended up getting pulled in a 5-0 drubbing.
The Jackets offense just had a terrible game. A 1.18 xGF last night which is their worst of the season. Pretty sure they can kiss their playoff hopes goodbye after that. That wasn't a game the Wild won – that was a game that the Jackets lost.
We had the over in the Rangers vs Flyers game and won with that. The big news out of that one was Chris Kreider picking up an injury – a fractured foot. That's absolutely brutal. Rangers can probably kiss goodbye to their playoff hopes too, although I hope they can band together in his absence. Always love when a team does that.
I mentioned yesterday about fading public teams, and said to do some analysis on that Ducks vs Penguins game. Hopefully some of you did that and came to the conclusion that it was a good spot, as the Ducks ran out 3-2 winners.
Usually when we do polls of close games the results of the poll are very close. Not so yesterday as 75% of you correctly predicted the Avs would beat the Hurricanes Props to you. Francouz had to pull off 45 saves in that one. Hurricanes had an xG of 4.38 and a whopping 23 high danger chances in that one, their 2nd highest HDCF all season (highest was the game over the Leafs where they – you know – won with a ZAMBONI DRIVER in net)
It's Saturday. It's busy as usual. Let's see what we got and hopefully end this torrid month with a win. Then hopefully the simple process of the calendar being flipped to a new month turns things around!
An interesting night tonight with a lot of possibilities. Hawks vs Panthers on paper goes over but both teams are so iffy it's hard to back.
I thiiiiiink Canes have what it takes against the Habs. But no value in the line. They might be worn out after last nights efforts. Easy no bet there.
I feel like the Oilers will win tonight. Just one of those spots where you look at it and think "Yep Oilers take that one". But I absolutely hate betting the Oilers and against a team that is battling for their playoff life? Luckily the odds make it easy to skip.
Sens vs Red Wings is an interesting one. Despite their results, I think Red Wings are ready to pick up one of those rare wins. Not sure if it will be today though. Depends if the Sens are still riding the Ryan return or not.
Unlike yesterday, in my analysis I don't think betting against the Pens is the value play here. I think this is a spot where they turn their fortunes around. However being heavy favourites we'd have to take them in regulation and on the 4th game of a long road trip and a back to back to boot? I'll stay away.
Another night with a lot of heavy favourites. What dogs win? I think you could make a good case for the majority of these dogs. So knowing the way hockey is, all the favs win ha.
[poll id="113″]
Got two overs in the early games. Which always makes me worried ha as in my head I feel matinee games don't go over as much even though I've looked at the data and that's just not the case at all.
Bruins vs Islanders Betting Tips:
So first of all I should note the line is at 5.5 for this one and the sportsbooks feel it won't even hit that. There's a good chance it drops to 5 prior to game time the way the money is going.
These two teams also haven't gone over 5.5 goals in their last 5 games. You have t ogo back to January 2018 when the Bruins beat the Islanders 6-1.
Islanders in one of those bizarre things have lost 9 games in a row against the Bruins at home. Bruins always have their number. The media are playing that up a bit so hopefully that motivates the Islanders here. They look good for the playoffs so it's nice to have some extra motivation.
I think the Bruins will be motivated too. They've coming off those two losses and showed a lot of fight against Dallas. I like them to be up for it as they look to win the East.
Rask is in net which is probably good news right now considering how he performed against the Flames and Canucks.
A lot of this to me leads to the Islanders pushing hard to get an early goal. An early goal always helps an over and although the Islanders have one of the best period 1 defensive records in the NHL, the Bruins have the 3rd best goalscoring record. Teams better then them are the Oilers and Avs, both of whom have had no problem in recent games scoring early against the Islanders.
So hopefully a high scoring first period to kickstart this game.
0.5u on Over 5.5 Goals incl OT/SO
Canada: 2.17 Odds at BetOnline..
USA: +115 Odds at Bovada.
Everyone Else: 2.17 Odds at BetOnline..
(Odds correct as of 2020/02/29 9:55:09 AM EST but are subject to change.)
Lightning vs Flames Betting Tips:
In the last couple of years these two teams have had excellent games against each other and I'm hoping for another fun one full of goals today.
When I look to back an over the initial questions are about motivation and desire to win. Flames obviously have that as they are deep in the playoff race and it's pretty damn tight. That loss against the Preds will have hurt their chances. They have had 3 tough losses like that recently against the Blackhawks, Bruins and Kings and instantly bounced right back so they have the desire.
Then you have Tampa who after their big winning streak was over, have now lost four in a row. So they also should have the fight.
So we've established the desire. Flames are better on the road then at home so they'll be up for this game even if it is Tampa. Flames offense overall has been poor this season but a lot better lately. Tampa have one of the best offenses in the league. Neither team is blowing it away defensively although Tampa are learly better in that department.
Flames offense is performing their best all season long based on the advanced metrics.
There's definitely a few negatives to this one. Flames have a great PK and with Stamkos likely out, the Tampa PP won't be as effective. Tampa defense you can't write off. Flames may save some in the tank for tomorrows game against the Panthers if they go behind. Tampa mentally may be ready to give up on winning the division/conference and just playing it out.
We generally don't do team props. Just one of those things we haven't felt super comfortable with. A game like this for example I look at it and think Tampa can score the goals – the question is if the Flames can match them. However there have been enough games where I think that, then the Flames put up 4 or 5 goals to put it over and it steers us away.
It's something I am exploring though, and in that regard team props on Tampa such as them winning the race to 3 goals (1.74 odds) or Tampa scoring over 3.5 (1.80 – I wouldn't bet that) seem viable. Both of those you can bet at Bet365 (Americans: We recommend http://www.bovada.lv btw. We would have to have a bigger variety of bets like that on offer but it's something where I like to test it in-house for a year or two before I have the confidence to actually advise.
I'll stick with the combined over on this one.
0.5u on Over 6.5 Goals incl OT/SO
Canada: 1.95 Odds at BetOnline..
USA: -105 Odds at BetOnline..
Everyone Else: 1.95 Odds at BetOnline..
(Odds correct as of 2020/02/29 9:55:09 AM EST but are subject to change.)
Follow @BetNHL
BetNHL.ca » Tonights Tips »