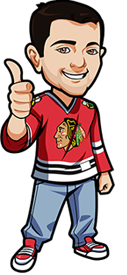 Written by Scott on Saturday, February 2nd, 2013
Follow @BetNHL
Wow did Tampa Bay ever dismantle the Jets 8-3!! 11 goals in one game that's unreal, and I'm sure the people who bet the Grand Salami over were loving ever minute of that game. And what is going on with Luongo?? He has been unreal lately and is forcing the Vancouver Canucks to have to make a tough decision in the near future. The Capitals got just their second win of the season over the Flyers, who are really needing to shake things up soon or the season will be over before the know it
Some great games being played today an original 6 matchup, with the Leafs and Bruins. A game between teams who played each other last night, the Coyotes and the Stars. And can the Sharks stay undefeated on the season against the Predators? Also its the battle of two California teams when the Ducks and the Kings face off. Its a great day to sit on the couch and take in a day full of hockey as the first game gets underway at 1:00
Now for tonights tips:
Devils vs Penguins: Will A Goal Be Scored Before or After 9:30 – Before
Both teams had the night off last night and both teams can score goals early and often. With these teams being well rested expect the first goal to come before the halfway mark of the first period. These Atlantic Division rivals are battling for first place in the division so both teams will be coming out swinging.
My Tip Of The Night for tonight is that a goal WILL be scored before 9:30 of the first period. The Pittsburgh Penguins are currently 1 point behind the Atlantic leading New Jersey Devils so this game will be a good one. To bet on this cool prop head to Bet365 (Americans: We recommend http://www.bovada.lv and bet that a goal will be scored before 9:30 for -105 betting odds.
Bruins vs Maple Leafs: Leafs To Win
The Toronto Maple Leafs love playing at home on Saturday night and nothing like a battle of Original Six clubs. Although the Boston Bruins are ahead of the Leafs in the standings, the Leafs will defiantly bring a challenge here and have a great shot of winning this game
5Dimes has the Odds for the Leafs to win at +115. Any time the Leafs are home for Hockey Night In Canada its always worth a bet. And don't forget to check out our NHL Live Betting Odds to make sure you get the best odds available as they are constantly changing.
Red Wings vs Bluejackets: Redwings -1.5 Puck Line
A lot of the media was saying that the Detroit Red Wings would suffer this year after losing Lidstrom and the fact that their core was just getting older. But as always the Red Wings are as competitive as ever. The Bluejackets are actually a lot better so far than I expected but the Wings are just a great team. And Zetterberg is on fire right now after that hat trick last night
Bet the Red Wings -1.5 Puck Line at [geocode id=5 for an incredibly strong +238. That's unreal betting odds that must be taken advantage of.
Follow @BetNHL
BetNHL.ca » Tonights Tips »