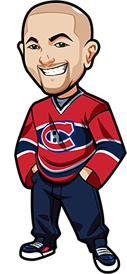 Written by Graeme on Saturday, February 2nd, 2019
Follow @BetNHL
A 2-0 night last night with the NHL Betting Tips!
Yesterday was quite fun actually. I'd said I was very wary due to the post bye week stuff so it was fun going into the betting tips with that attitude. Basically "I don't want to tip anything unless it jumps out at me and I can't argue myself out of it". There was a few potential plays and the two I couldn't argue out of ended up winning.
No regrets on going 0.5u as they were tight ones too. We had the Capitals to win and they duly delivered but it was a tough 4-3 game and quite a battle.
We also had the Penguins to win by at least 2 goals and they won 5-3 in another tight one as Ottawa just kept scoring. That was a fun one as I ALMOST did a "if Murray is in net" addition to that one. He was projected at the time of the tips but I analyzed DeSmith and decided even if he was in net I still felt happy with it. So that was good.
Hawks got a big 7-3 win over the Sabres on the road. Stars got a solid home win against the Wild and if they want to make the playoffs they need to regain that home form.
It's February 2nd and a lot of games on the slate. Let's proceed with caution again.
Flyers vs Oilers Betting Tips:
Oilers went into the break suffering three straight losses. After a brief resurgence under Hitchcock they appear to have lost their way again.
They come off the break against a Philly team that has already got two games under their belt. Both on the road, both victories.
I'll be honest – I do feel a bit wary about this one. These are two very evenly matched teams. Philly seem to be gaining a lot of confidence however and I have to hope that continues. Oilers have the potential to be rusty and have bad goaltending. Oilers do seem to drift off performance wise in the third period too which I like if it's a close game which is a possibility. That's a potential live bet if Flyers are 1-2 down going into the 3rd.
A wary 0.5u on Flyers in regulation. Actually seeing the odds at 888 Sports makes me feel a bit better about the bet. B365 are 1.90 so that's a big leap and mathematically I feel good about the play now, win or lose.
Canada: 2.10 Odds at 888 Sports.
USA: -105 Odds at Bovada.
Everyone Else: 2.10 Odds at 888 Sports.
(Odds correct as of 2019/02/02 11:56:50 AM EST but are subject to change.)
Jets vs Ducks Betting Tips:
We all have teams that we don't like to bet on. It comes and goes – and right now Jets are that team for me.
They're a team I just have trouble trusting. I felt that early in the season when I felt they struggled with motivation. There were some games where they just didn't turn up till the 2nd or 3rd period. There's been a few times I've trusted them and bet them and lost.
But I'm throwing my trust in them once again. This is one where I just can't talk myself out of it. One of their biggest issues as well is allowing chances against them or goalscoring opportunities but the Ducks are struggling to score so hopefully that sticks.
It's one where I just feel like regardless of my personal thoughts on the Jets, I have to trust the numbers.
0.5u on Jets in Regulation
There's a lot of other potential plays tonight but just not enough to pull the trigger on. Whether it's post bye week or on a B2B or just glaring stats. I've got a strong feeling Preds/Stars goes over 5.5 but the numbers just don't line up plus both on a B2B (altho Preds offense usually good then).
I'll stick with just the two. Don't want to get too over-confident.
Canada: 1.75 Odds at 888 Sports.
USA: -140 Odds at Bovada.
Everyone Else: 1.75 Odds at 888 Sports.
(Odds correct as of 2019/02/02 11:56:50 AM EST but are subject to change.)
OHL / WHL / AHL / KHL / Czech Extraliga Betting Tips:
(All below systems are based mainly on mathematics and statistics with very little human input and are deemed experimental. )
KHL Betting Tips (9-9, -0.56u): 0.5u on Lokomotiv incl OT/SO 1.75.
AHL Betting Tips (16-15, +0.22u): 0.5u on Rochester in reg 1.80. 1u on Syracuse Crunch in reg 2.15. 0.5u on Bakersfield in reg 1.68.
Where To Bet the Non-NHL Leagues:
Canadians: Bodog and 888 Sports.
Americans: Bovada.
Everyone Else: 888 Sports.
Follow @BetNHL
BetNHL.ca » Tonights Tips »