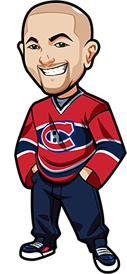 Written by Graeme on Sunday, February 2nd, 2020
Follow @BetNHL
A 2-1 night with the NHL Tips last night. Unfortunately due to unit sizing we actually ended up losing 1u.
Our wins were backing the Rangers and Lightning in regulation.
The Rangers won a tight 1-0 game over the Detroit Red Wings. Both teams had plenty of chances in that one and it was Zibanejad with the PPG in the 1st to give us the win there.
Tampa had a nice and convincing win over the San Jose Sharks.
Our loss was with the Senators vs Leafs game. We had the over in that one and it didn't come close. Crazy to see that one being so low scoring. Prior to last night only 1 game in the last 22 Battle of Ontarios was below 5 goals and that was a 4-0 thumping by the Sens back in 2016.
I felt the Leafs just went back to not looking like they cared. There was some good saves by Anderson but Leafs were just lacking that energy and will to win that we've seen so often this season. In saying that Nylander looked fantastic last night. Such a different player this season as opposed to last.
I guess the hockey gods decided to save the energy for that Battle of Alberta. My god what a game that was. Just insane man. Mike Smith throws one heck of a punch.
Arizona blew the spot AGAIN. Lost their last 5 now. That was actually a hell of a game too. What a mess they are.
Just the three games today and unfortunately no tips. Sorry guys
The sportsbooks seem to be underestimating the Canucks still. While I can see why the Canes would be favourites, Vancouver have really proven themselves and don't deserve to be 2.60 underdogs. Don't think I can actually advise them but I do think there is value on betting on them there.
The under is probably a good bet in the Caps/Pens game but with those two offenses? No thanks. Last few games in Washington have went under. Just takes one early goal in a game like this for it to explode.
I wanted to take the Habs today but don't feel there is value on them at that price. I just don't have confidence in them. While the win over Florida was nice; I had a feeling as I mentioned yesterday the Panthers would have no energy. Jackets I thought were similar yesterday but a lot of teams shake off the rustiness in that first game then come out swinging. So despite their injuries I'm going to stay away.
Of course we've got one more game on the board today – it's Super Bowl LIV, featuring the San Francisco 49ers vs the Kansas City Chiefs. I took the Kansas City Chiefs. I just think Mahomes magic is too good to ignore. Although as a Pats fan, I'm just going to enjoy not spending the day as a nervous wreck for once.
Who you got?
[poll id="99″]
Non-NHL Betting Tips:
Written by Graeme
(All below systems are based mainly on mathematics and statistics with very little human input and are deemed experimental. Use at your own risk.)
KHL Betting Tips (4-2, +1.43u): 0.5u Neftekhimik in regulation. 1.95.
Where To Bet the Non-NHL Leagues:
Canadians: Bodog and 888 Sports.
Americans: Bovada.
Everyone Else: 888 Sports.
Follow @BetNHL
BetNHL.ca » Tonights Tips »