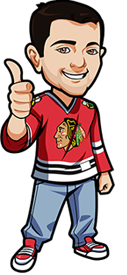 Written by Scott on Saturday, February 2nd, 2013
Follow @BetNHL
Well that was a decent night of hockey with some surprising results. The Bluejackets upset the Red Wings. The Flyers are going in the right direction now with a win as well as the Rangers. And the Avalanche beat the Oilers. And FINALLY Pk Subban made his return and the Montreal Canadiens pounded the Sabres 6-1
A slow day of hockey today with only 4 games scheduled. But the Super Bowl is on and the whole world kind of comes to a stand still so everyone can enjoy the game. But with the Super Bowl happening in the evening the 4 games are all on early today. Penguins vs Capitals at 12:30 ,Sens vs Canadiens at 2:00, Devils vs Islanders at 2:00 and Panthers vs Sabres at 3:00. So no matter which game you want to watch today, all games will be finished before the 49ers and Ravens play tonight at 6:30 GO 49ers!!!
But with 4 NHL Games on this afternoon there are still plenty of options to bet on and speaking of which lets get to tonights Betting Tips right now:
Grand Salami: 21.5 Over
When the Super Bowl is on friends who are getting together to watch the game tend to get together way before the game starts to enjoy a day of sports, beers and pigging out. Well teams understand that they will have more viewers than normal and want to capitalize on this so look for the games to be high scoring today.
Bet the Grand Salami Over 21.5 at Bodog. Today teams will be playing harder than usual trying to win some fans over who might not normally watch hockey. And how do you get a non fan to become a fan of the NHL? Well by high scoring and action packed hockey
Penguins vs Capitals: Over 5.5 Goals
Remember not long ago that anytime these two team met that the whole hockey world would stop to see Crosby and Ovechkin face off. Well although these players have just had a down year, one due to injury the other a different coach, expect the rivalry to resume this afternoon. Also I expect Ovechkin to use this game to get over his slump he is currently in. This game will be a high scoring showcase of some of the leagues best players. This is also my Tip Of The Night
Bet that this game will go over 5.5 goals at Pinnacle Sports where the over odds are currently at -105. But as you know odds are always changing so to get the best odds available on this Over bet check out the most current NHL Betting Odds by Clicking Here
Senators vs Canadiens: Canadiens Puck Line -1.5
Now I can say with certainty that PK is back. And after the ass kicking the Habs handed the Sabres yesterday you would have to think that the momentum would continue today. Also with Jason Spezza out for possibly the year, the Sens season suddenly looks a little less promising.
Bet the Canadiens Puck Line -1.5 for +245 at 888sports. And believe me the Habs haven't forgotten that just 4 days ago the Sens handled them easily when the Habs lost 5-1
Follow @BetNHL
BetNHL.ca » Tonights Tips »