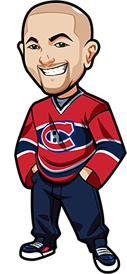 Written by Graeme on Tuesday, February 5th, 2013
Follow @BetNHL
Well some really interesting games last night. The Leafs lost a big one as the Hurricanes came and destroyed them at the ACC in a huge 4-1 win. Dallas finally got back on track with a big win over the Colorado Avalance, and Canucks vs Oilers was another fun game with the Canucks finally picking up the win in OT, after a big comeback.
Today there is no shortage of games. The big one is of course the Blackhawks vs the Sharks, in what should be a very interesting game. The Lightning come to Philadelphia hoping to pile the misery onto the Flyers, and the under-performing Capitals have a chance to get some momentum going with the visiting Toronto Maple Leafs. Let's see what we've got in February 5ths NHL Betting Tips:
Grand Salami: Over 55.5 Goals
There are 10 NHL games today, and the Grand Salami line for Februery 5th, 2013 is 55.5. We're going to be taking the over in this one.
Generally when you are betting the Grand Salami, you are looking for about 3 games that will tilt the average when it comes to goals. And we have more than enough to look for tonight. Devils vs Rangers is looking to be a hot affair, Penguins vs Islanders just SCREAMS goals, as does Tampa Bay vs Philly. Calgary vs Detroit also has two teams that concede a lot of goals so expect there to be quite a few there as well.
We're taking the Over 55.5 on the Grand Salami, which is currently available at +100 odds at BetOnline. which is some sick value.
Leafs vs Capitals: Leafs To Win
Okay – you might think I am crazy here but hear me out. The Leafs are coming off a battering last night, and now have to travel to Washington. They've lost their last couple of games. Washington meanwhile are WASHINGTON – they have Ovechkin!
Yet Ovechkin is performing extremely poorly. His confidence is broken. Erskine is out. There's issues with goaltenders at the moment. And the Capitals so far have been sucking. The Leafs meanwhile seem to have their strategy on the road set with a nice 3-1-0 record to take to Washington. Fratton has been performing extremely well, and the Leafs DID put up 42 shots against Cam Ward. On top of that – the odds are just too generous to ignore against a piss-poor Washington side. You can currently get a whopping +150 odds at 5Dimes.com when +100 would be a fairer price. Easy +EV in this one.
Lightning vs Flyers: Lightning To Win
I had to admit I couldn't believe my eyes when I checked the odds. Pinnacle currently have the Tampa Bay Lightning at +106. They've actually set the Flyers as the favourites in this one. Seriously?
This one is mind-blowing. You can't base odds on a teams past history or expectations – you need to base it on the current season. And the Flyers SUCK this season. These two teams already played last week where the Lightning DESTROYED them 5-1. Lightning are scoring goals for fun, and although their road record is still untested you HAVE to take the in-form team here, especially when they are the apparent underdogs.
Follow @BetNHL
BetNHL.ca » Tonights Tips »